This is an archived article and the information in the article may be outdated. Please look at the time stamp on the story to see when it was last updated.
INDIANAPOLIS – Wednesday evening, community members gathered to talk about last week's violence and to ask questions about how police plan to keep peace in the streets this summer.
Friends and family of Julia and Inity Morrow have been leaving flowers and teddy bears at the house where the women were murdered Friday by a man police say both of them knew, 36-year-old Quintico Goolsby.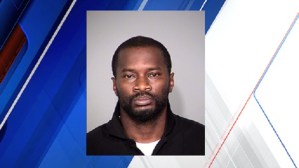 "When I was living here next to her, she took care of me. Anything I needed from this lady," said Veronica.
This afternoon, Veronica spent the day caring for Julia Morrow's yard.  She mowed the lawn, trimmed near the sidewalks and swept the front steps. Veronica says it's something the "Grandmother of the Neighborhood" would expect her to do.
"We kept our yards together, together. And, I am going to continue to do it," Veronica told FOX59.
Less than a week after three people were killed at this home on Dearborn Avenue, Indianapolis Police Chief Rick Hite was back in the neighborhood. Chief Hite held a private community meeting at New Zion Tabernacle with residents about the recent violence.
Hite shared with FOX59 how IMPD plans to keep peace in the streets this summer.
"We are looking at it more in terms of individuals in zip codes now. We are getting away from spaces and places and things we talked about before," said Hite. "We are going to drill down further and look at the individual cases and the connections."
Hite says neighbors must also be involved, doing exactly what Veronica did: caring for her community.
"Every little bit helps," said Veronica.
A community breakfast is planned Friday at New Zion Tabernacle for police officers who patrol these neighborhoods.
Hite told FOX59 that IMPD Officer Chris Milburn is still recovering at home after being shot in the chest by the suspect.  IMPD says Milburn's bulletproof vest helped save his life.