This is an archived article and the information in the article may be outdated. Please look at the time stamp on the story to see when it was last updated.
INDIANAPOLIS, Ind. (Jan. 31, 2016)--Good Sunday afternoon! It was another unseasonably warm day across the area. Highs reached 60 degrees in spots including Indy. In fact, the city was six degrees shy of tying a record high temperature for this date. We've had strong southwest winds gusting to 30 and 35 mph at times today. What a way to end January!
Showers will continue to move out of Indiana tonight. Expect some areas of patchy fog, otherwise cloudy overnight.
It will be much colder by Monday morning with lows in the mid-30s. Wind chills will be in the low 30s with light winds. Highs Monday will reach the upper 40s with a decrease in cloud cover.
A strong low-pressure system will move out of the Plains and up through Iowa and the Upper Midwest through Tuesday. Ahead of the storm system Indiana will get warm again. Expect highs back in the upper 50s and low 60s with strong southeast winds gusting to 35 mph at times. This will allow for moisture to move back into the region, fueling t-storm development. As the low pressure gets closer, showers and t-storms are possible in the afternoon Tuesday. The best chance of t-storms will be Tuesday evening as a squall line looks to develop and move through the area. Right now the SPC has portions of southern Indiana highlighted in a slight risk for severe weather.
Damaging winds and heavy rainfall look to be the primary threats with storms across central Indiana with the highest tornado risk across portions of southwest Indiana. Indy still has a chance of strong and marginally severe t-storms. We'll be watching this closely. Some locations could pick up a quick 0.25 to 0.50 inch of rainfall from t-storms.
Prepare for falling temperatures Wednesday as a strong cold front moves through. Temperatures will start near 40 degrees daybreak Wednesday and fall through the day. We'll have enough moisture around for a possible rain to snow mix through the day too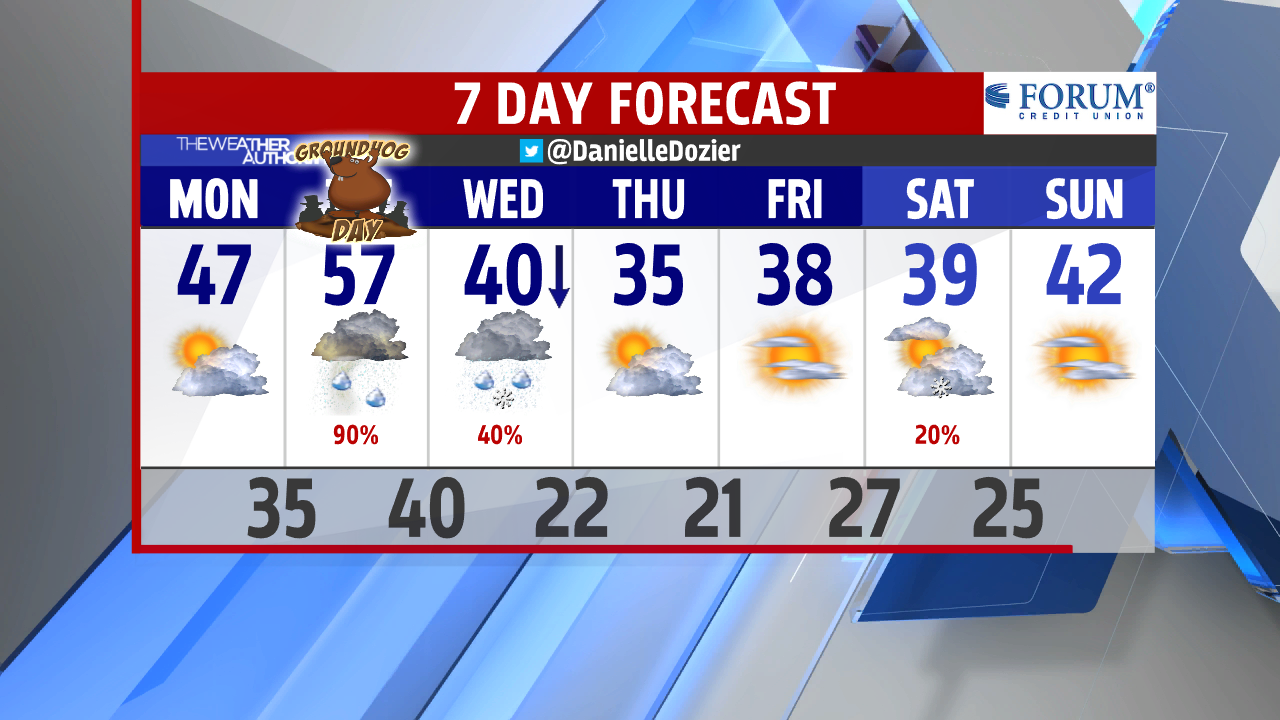 . --Danielle Dozier