This is an archived article and the information in the article may be outdated. Please look at the time stamp on the story to see when it was last updated.
INDIANAPOLIS, Ind. – According to court documents filed in the case, suspect Cody Weir confessed to the fatal stabbing death of a young mother.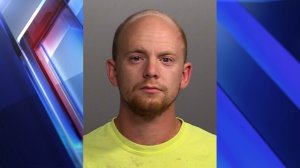 Detectives began investigating the crime around 6:30 a.m. Friday, October 13 after a person was found dead on the second level of the building, which houses the gym for 9 on Canal apartments.
The coroner later identified the victim as Carina Rodriguez, 22, and determined her cause of death to be a stab wound. Her family tells us she just moved to Indianapolis from Texas to start a new life with her son and go back to school to get her associate's degree in the medical field.
IMPD Chief Bryan Roach was there when Weir, 25, was arrested in the parking lot of a Best Buy store in Avon last Friday afternoon. Police say a lifelong acquaintance recognized Weir from surveillance video recorded in the lobby of the apartment complex.
One detective calls Weir "a predator," and says he believes the homeless man from Hendricks County was prowling early Friday morning for a target of opportunity when he spotted 22-year-old Carina Rodriquez working out in the fitness room.
According to court documents, Rodriguez was alone in the gym at 2:44 a.m. when the suspect approached the locked gym door. She let him in and he proceeded to drink from the water fountain. He told authorities he was angry and tried to calm himself down by drinking water.
He then struck her with a knife at 2:45 a.m.
There was a short struggle as she was on the ground, and the suspect ran out of the gym. After he left, Rodriguez stood up, staggered towards her bag, pulled out an iPad and attempted to use it. She continued to stagger until falling to the ground unresponsive at 2:49 a.m.
A search warrant of Weir's car has been conducted in the pursuit of evidence linking him to the murder. His Pontiac Grand Prix was parked in a handicap parking space near the complex's main entrance. Inside, officers found a Gerber brand fixed-blade knife with possible blood on the handle and blade, a hooded jacket with a Batman symbol, a pair of jeans and work boots, all with possible blood.
A cigarette pack and key fob were also found.
After police released surveillance video to the media, several people called and claimed Weir was the suspect. One person who knows him called him after speaking with police. Weir told him he blacked out and couldn't remember anything.
That person convinced Weir to meet him in the parking lot where officers took him into custody.
When police interviewed Weir, court documents show he initially told them he didn't really remember anything. He said he'd been in the building before because he had a friend who lived there. He also told police he still had a key fob for the building.
He said he usually kept a knife in his car, and that he used it for work. He then recalled the victim letting him into the gym.
"I think I knocked on it, and she let me in, and I told her 'thank you,'" he said, according to court documents. "I had a knife in my hand. I remember hitting her and then I ran."
He was then arrested for murder.
Weir was found not guilty of rape in Hendricks County in 2014 and is reportedly known to Avon Police.
Following the filing of a Probable Cause Affidavit this afternoon, detectives will continue their background investigation into Weir's history and activities the night of the killing.
A 9 on Canal spokesperson said the exterior door is not required to be locked, as it provides access to another gym and a burger restaurant. All doors in the building that were required to be locked were, including access to the residences and the door to the gym where Rodriguez was found dead.
Even if Weir obtained the fob from a former resident, the spokesperson said it should have been deactivated if it wasn't collected by management. The spokesperson said if anything could have been done to prevent the murder, they would have done it.
One woman told FOX59 that Weir contacted her on social media hours before the murder in anticipation of a sexual encounter.
A source confirms Weir was crying and confessional after his arrest. His initial hearing in court is set for Tuesday at 1 p.m.