This is an archived article and the information in the article may be outdated. Please look at the time stamp on the story to see when it was last updated.
LAKE TAHOE, Nev. – You have to hand it to country superstar Tim McGraw: he handled it like a pro.
McGraw was performing in front of an audience at Harvey's Lake Tahoe Outdoor Arena on July 23 when he fell off the stage. A fan shot video of the incident that showed McGraw greeting fans at the end of the stage when he took a misstep while singing "All I Want Is a Life."
McGraw fell but barely missed a line of his lyrics and quickly recovered, continuing the song as if nothing happened. He also gave high-fives to some nearby fans.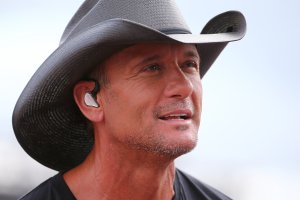 McGraw has been on tour touting his most recent album. He'll next appear in Canton, Ohio, this weekend, when he plays the 2016 Concert of Legends as part of the NFL's Hall of Fame festivities.
Former Colts coach Tony Dungy and former Colts wide receiver Marvin Harrison are among those entering the hall this weekend.