This is an archived article and the information in the article may be outdated. Please look at the time stamp on the story to see when it was last updated.
TIPPECANOE COUNTY (Sept. 19, 2014) – A Purdue University student who admitted to stabbing and shooting a classmate in January received the maximum sentence Friday.
Judge Thomas Busch delivered a 65 year prison sentence to Cody Cousins, who pleaded guilty to killing Andrew Boldt at Purdue's Electrical Engineering Building. The attack shocked the campus and led to new security systems at the university in West Lafayette.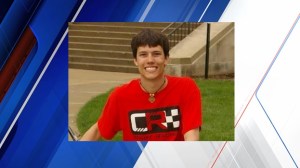 Shortly after his arrest in January, Cousins entered a not guilty plea. He later asked for a change of venue and new representation. His attorney filed a notice in May that he planned to use an insanity defense, and Cousins said he has mental health issues.
Is Cody Cousins mentally ill?
During testimony Friday, Dr. Steven Berger said Cousins has a mental illness, adding that he was not experiencing those symptoms when he killed Boldt. Berger described Cousins as bipolar.
During the hearing, prosecutors revealed that Cousins had been to 17 appointments with Purdue Counseling Services. He'd also been treated for amphetamine abuse. He exhibited issues including bipolarism, drug abuse, psychosis and delusions. It was also noted that Cousins made the Dean's List three times and was considered very smart.
A second expert, Dr. Vernon L. Little from Wabash Valley Alliance, said Cousins had trouble for years; those problems could've gotten more intense as the years went by. He said there was no doubt Cousins was mentally ill and believed the condition would continue in the years to come.
A pathologist, Dr. Elmo Griggs, said Boldt was shot five times and suffered 19 stab wounds and cuts. He was shot both in the front and the back. Griggs testified that it was "the worst homicide I have ever seen."
A Lafayette Police Department detective said a witness told him Cousins bought ecstasy from August 2013 to October 2013, buying about a gram of the drug every 10 days. The detective noted that the substance can cause hallucinations and lead to aggressive behavior.
A Purdue police detective said students heard and saw Cousins stab Boldt and then kick him. He's interviewed the students and said they were traumatized by what they witnessed. Cousins had attended two classes on the morning of the murder. After shooting Boldt and running out of ammunition, the investigator said Cousins told students to call police and then pulled out a knife.
Elizabeth Morrell, a former teacher of Boldt's in Wisconsin, said Boldt was a gifted student who was humble. She described Purdue as a perfect fit for him and said his death is something no one will ever understand. Dr. David Meyer, a Purdue instructor, had Boldt in class. Boldt was an excellent student, according to Meyer. The instructor said Cody Cousins was in a class where Boldt was a teaching assistant, but he never graded any of Cousins' work. Cousins failed that class.
One student spoke Friday, stating he represents a group of students affected by the incident. The student said what he saw that day continues to haunt him and that loud, sudden noises cause him unease. He told the courtroom he could see pain in the faces of fellow students and professors in the weeks following the attack.
Boldt's parents give emotional statements, ask for maximum sentence 
Boldt's father, James, took the stand following the student's testimony. James Boldt said his son's murder has impacted more than just his family, adding he and his wife cry almost every day.
"Andrew's hands were too damaged for his mother to hold them… No parent should have to see this," said James Boldt.
Fighting back tears and briefly pausing before he continued speaking, James Boldt said, "the images of my son can never be erased from my memory."
In a plea to the courtroom, James Boldt said, "I ask that Mr. Cousins be sentenced to the maximum so that our family, the Purdue family and this state won't face him killing again."
Boldt's mother, Mary, addressed Cousins in court, asking "Did you even know my son, Andrew? He was trustworthy, loyal, helpful."
"What did he do to you to make you so mad?" asked Mary Boldt, looking directly at Cousins.
"Why did you do it? You must've had a reason," Mary Boldt continued to ask Cousins. "I've been waiting here all afternoon to hear it."
Mary Bolt told the court it took five hours for Purdue University officials to confirm Boldt had died. She said it was the longest five hours of her life.
"Mr. Cousins, you intended to make my son suffer before he died. How dare you. How dare you? I'm haunted by a mental picture."
Boldt's mother said he would have wanted to be an organ donor, but because his wounds were so severe, the family could not donate.
"Mr. Cousins, you blasted holes in many hearts that cannot ever be closed," said Mary Boldt.
Turning her attention to the judge, Mary asked that Cousins receive the maximum sentence.
"My son Drew wasn't the only victim of that crime," said Mary. "How dare he put lives at risk?"
Cousins faces 45 to 65 years in prison. The motive for the attack remains unclear.
Cody Cousin's mother: There's a history of mental illness in the family
The mother of Cody Cousins, Wendy Melancon, said there is a history of mental illness that runs in the family.  She said things weren't going well with her son in spring of 2013, so she brought him to a doctor, who believed Cousins was developing schizophrenia.
Melancon said she hospitalized her son and put him on a 72-hour hold in the summer of 2013.
"I killed Andrew Boldt because I wanted to," says Cody Cousins
There was shock, confusion and tears after Cousins spoke in court Friday.
"I have a confession to make," said Cousins. "I lied to those doctors. I made up all the crap about Andrew being evil."
Cousins continued to say his abuse of drugs explains his manic depression.
"I killed Andrew Boldt because I wanted to," said Cousins. "I do what I want and deal with the consequences later."
Cousins' mother laid her head in her hands and wiped away tears as her son spoke.
"My mother is a skilled clinician except in the case of her son," Cousins said.
Prosecutor: He wants you to know he did it
Prosecutor Pat Harrington said circumstances that occurred on Jan. 21, 2014 were not caused by bipolar disorder, instead pointing to Cousins' drug use.
Harrington said he questions whether Cousins has a mental illness because of the different diagnoses Cousins received after being evaluated by more than a dozen health professionals.
"This man is dangerous to society," said Harrington as he asked the judge for the maximum sentence. "He is the worst of the worst."
However, the defense continued to argue there was still reason to declare Cousins guilty but mentally ill.
Cousins tried multiple times in court to ask the judge a question, but his request was not granted. The judge allowed him to contribute again to his statement.
"Is mental health treatment meant to be a punishment or not?" Cousins asked. "That's all."
Following the comment, Judge Busch called for a recess, stating he needed a moment to collect his thoughts.
Judge: This is the story of Cain and Abel
Following a short recess, Judge Busch returned to deliver Cousins' sentence.  He said envy led to Boldt's murder, calling the tragic incident a story of Cain and Abel.
"It's an old story and hard to accept that it happens," said Busch.
Busch said Cousins became frustrated by his lack of success and inability to achieve independence, which led to envy.  He said he would not find Cousins guilty but mentally ill at the time the murder was committed.
"Violent thoughts led to violent actions," said Busch. "That's not insanity, that's not mental illness…that's what happened."
The judge stated Cousins envied how successful Boldt was and that feelings of malice continued to grow into hatred.
Judge Busch spoke to those affected by the tragedy, stating it was his hope that as years go on, they find a way to find peace and joy.
"This is a crime of hatred," said Busch. "It's also a crime of terror. Cousins chose a place where people were gathered."
Busch went on to say Cousins' guilty plea did provide a prompt resolution to the case and spared the family further grief. Turning to Cousins, the judge said if Cousins didn't want mental health treatment, then he shouldn't order it.
"My heart goes out to everybody who is in distress, and I wish you peace," said Busch.
Judge Busch sentenced Cousins to 65 years in prison.  Cousins was given credit for the 242 days already served.
Following the hearing, Prosecutor Harrington said he has never seen a defendant make comments in an open court like Cousins did.
Purdue University released the following statement:
"Purdue University appreciates the work of the prosecutor's office and law enforcement in this case. The university was diligent in its cooperation to ensure justice would be served and to respect the legal process. Our hearts will always be broken for the Boldt family, and nothing decided today will bring Andrew back. We will carry with us always the memory of a promising young man whose life ended all too soon."