This is an archived article and the information in the article may be outdated. Please look at the time stamp on the story to see when it was last updated.
UPDATE:
On Oct. 10, 2017, Tresor Shema pleaded guilty to his charge of failing to remain at the scene of an accident and obstruction of justice. His other charges were dismissed. Shema was sentenced to 5 years of jail, 1 year of home detention, 2 years of probation and 10 years of license suspension.
ORIGINAL STORY:
INDIANAPOLIS, Ind. – Indianapolis police have arrested a man in connection with a deadly hit-and-run on the west side.
Police responded the incident near 34th Street and Moller Road around midnight Sunday.
Police say the suspect, 20-year-old Tresor Shema, struck another vehicle going north on Moller, which was occupied by a male driver, 22-year-old Luis Rivera, and a 22-year-old female passenger. That car was sheared in two.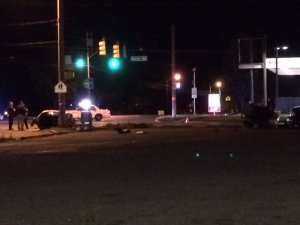 Rivera was taken to Lois Eskenazi Hospital in good condition. The female passenger died at the scene. Her name has not been released at this time.
Police say Shema fled the scene on foot following the crash, but he was quickly apprehended. He now faces a charge of failing to stop at an accident involving death, a level 5 felony.
Investigators believe alcohol may have been a contributing factor in the collision.