This is an archived article and the information in the article may be outdated. Please look at the time stamp on the story to see when it was last updated.
FISHERS, Ind. (Oct. 23, 2014)— A week after a person dressed in a clown suit was spotted walking in a Fishers neighborhood, a FOX59 viewer sent us photos of another "creepy clown" sighting.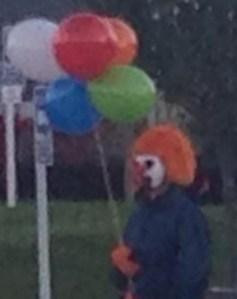 The viewer said she was driving home around 5:30 p.m. Tuesday, when she saw the clown in the Saxony subdivision in Fishers, near 131st Street and Olio Road.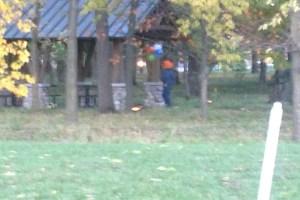 FOX59 first reported the clown sighting last week. Police said they have received complaints and are urging residents to contact authorities if they see the person. However, it is not believed the person has done anything wrong, and it is not illegal to walk around in a clown costume.
A rash of "creepy clown" sightings was reported in California and appeared to be connected to the Wasco Clown, which began as a social media project. The project prompted several copycat clowns to appear in other states, including Florida and New Mexico.
Police in Bakersfield, Calif. said they received reports some clowns were carrying machetes or baseball bats, according to reports.
It is unclear if the Fishers "creepy clown" sightings are connected to Wasco Clown.
Previous Story: