This is an archived article and the information in the article may be outdated. Please look at the time stamp on the story to see when it was last updated.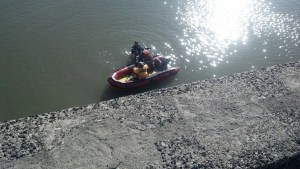 INDIANAPOLIS – Two people are safe after a water rescue in the White River in which a man jumped from a bridge to save a woman who'd fallen in the water.
Crews were called to the area south of Military Park and the IUPUI campus Thursday afternoon.
Witnesses said the woman fell into the water and the man jumped in to rescue her. Witnesses told Fox59 that the woman had been taking pictures and slipped. The man held the woman until crews could arrive.
According to the Indianapolis Fire Department, the pair was stranded in water about four feet deep. The IFD Dive Team recovered them about eight minutes after their rescue boat got into the water.
Both were taken to area hospitals after being in the cold water. According to IFD, they from hypothermia.