This is an archived article and the information in the article may be outdated. Please look at the time stamp on the story to see when it was last updated.
INDIANAPOLIS, Ind. – Drivers on the south side of Indianapolis should get used to construction on I-65 and I-465 over the coming months.
The work is scheduled to begin Sunday night on a $19.6 million project to rebuild six bridges on I-65 over I-465 and Lick Creek.
The eastbound I-465 loop ramp to northbound I-65 will be closed starting Sunday at 9 p.m. for the duration of the project. Detour signs will direct drivers south on I-65 to the Southport Road exit (103) so they can get back onto northbound I-65.
The project will require multiple overnight lane restrictions between 9 p.m. and 6 a.m. Starting Sunday and lasting through Wednesday, two lanes of northbound I-65 will close so crews can paint temporary lane markings and shift three northbound lanes and two southbound lanes toward the right shoulders.
Crews will remove sections of concrete wall that will shift traffic across the median.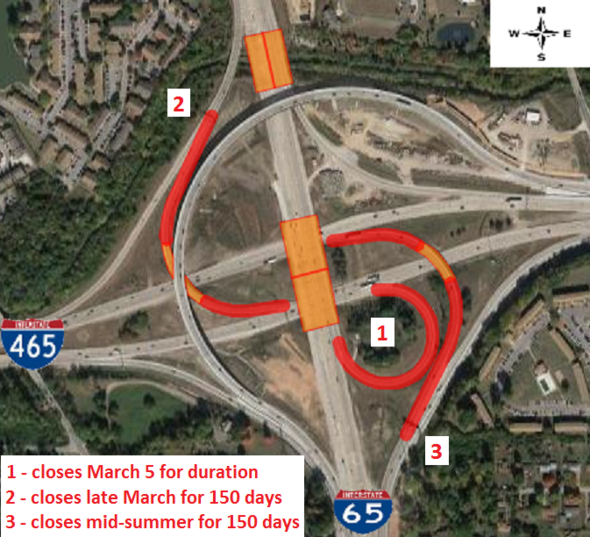 Starting on Saturday, March 11, two lanes of southbound I-65 will be shifted across the median to share the widened northbound side of the interstate. Temporary concrete barriers will separate traffic going in opposite direction. This traffic pattern is expected to last through mid-summer, according to INDOT.
During the project, northbound I-65 will have three lanes and southbound I-65 will have two lanes.
I-465 underneath the bridges will have closed shoulders and overnight lane closures. The specific closures and dates will be announced at a later time, INDOT said, and will be scheduled between 9 p.m. and 6 a.m. when called for.
Speed limits on I-65 and I-465 will be reduced to 55 mph through the work zone and 45 mph when crews are actively working.
In late March or early April, the southbound I-65 ramp to eastbound I-465 will close for up to 150 days. Detours will direct traffic to the Southport Road exit (103) to return to northbound I-65 for access to eastbound I-465.
Later in the summer, both directions of I-65 traffic will be shifted to the southbound side while work is completed in the northbound lanes. Construction will eventually close the northbound I-65 ramp to westbound I-465 for up to 150 days.
INDOT expects construction to be complete by the end of 2017.