This is an archived article and the information in the article may be outdated. Please look at the time stamp on the story to see when it was last updated.
INDIANAPOLIS, Ind. (Dec. 30, 2014)– Bailiffs rushed to calm down a heated exchange of words between people who were in court this morning supporting a mother and her boyfriend.
Maria Calderon and Freddie Bailey appeared in court at 9 a.m. on various felony charges.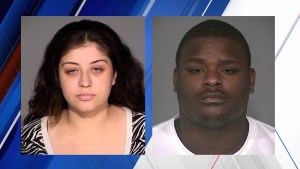 Calderon is charged with two counts of neglect of a dependent resulting in death and two counts of neglect of a dependent resulting in bodily injury. Bailey is charged with murder, neglect of a dependent resulting in death, and three counts of battery on a person less than 14 years old.
Calderon's 3-year-old daughter, Amabel Calderon, died last week after she was taken to the hospital with head trauma, bruises, and bite marks. Bruises and cigarette burns were reportedly discovered on Amabel's siblings. Authorities believe Calderon's children were in an unsafe environment for two months.
Calderon has not spoken on camera with FOX59, but Bailey did on Christmas Eve at the Marion County jail. Bailey explained what happened Monday, Dec. 22 before Amabel was taken to the hospital.
"It was just a situation that got out of hand, you know. She had been in trouble for a couple of days- 4 days in a row," Bailey said.
Bailey admitted he pushed Amabel's head on Monday, while she stood in the corner.
FOX59 learned that Bailey texted a woman Monday night to inform her about Amabel's situation.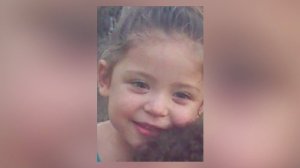 In court documents it stated Bailey texted the woman, "She had a seizure and I ain't know I was whoopin' her and everything- now she wont wake up and she keep biting her teeth and like seizing up and she had hit her head hard what do we do?"
Bailey continued messaging the woman writing, "How do you tell if pupils are dilated?"
After back and forth text messages between the two, she responded, "Well [wh]y did y'all wait so long to take her to the hospital?"
She continued, "She could have permanent brain damage."
Bailey admitted to FOX59 he went too far that day.
"I never wanted this to happen to her. This is not something…I even saw coming. This is not me. I still can't believe I did it. I swear," Bailey said.
Bailey and Calderon have been ordered not contact Calderon's 5-year-old son, Calderon's 1-year-old daughter, and the woman Bailey texted when Amabel was rushed to the hospital.
Bailey and Calderon are scheduled to appear in court late next month.