This is an archived article and the information in the article may be outdated. Please look at the time stamp on the story to see when it was last updated.
BLOOMINGTON, Ind. (Jan. 10, 2014)– The Bloomington Police Department is seeking help from the public to help identify who may be responsible for recent bank robberies.
The Department is currently investigating four bank robberies that have occurred since December 4, 2013. One bank on the eastside of Bloomington, Old National Bank (ONB), has been robbed on two separate occasions.
In the incidents, the suspect has shown a note demanding money from the teller. No weapon has been displayed and no one has been injured. The suspect flees on foot after the robbery. While there are similarities in the physical descriptions and the manner in which the robberies are committed, investigators have not concluded that all of the incidents are related.
The suspect in the robberies is described as a white male, 5'7″ to 6'0″, 150 to 170 lbs., thin build, age undetermined, head and face covered, wearing sunglasses.
The locations of the banks and the dates of the incidents from first occurrence are listed below: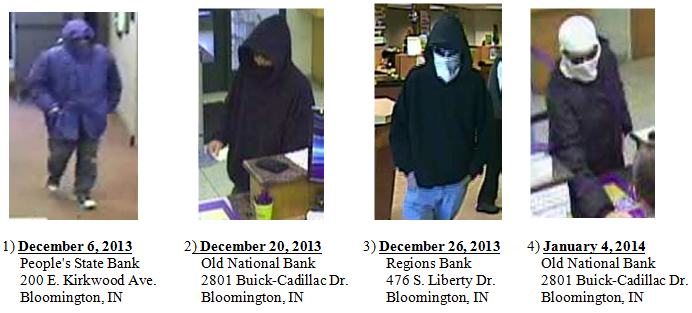 Anyone with information is urged to contact Detective Brandon Lopossa at 812-349-3318 or the Bloomington Police Department at 812-339-4477.