This is an archived article and the information in the article may be outdated. Please look at the time stamp on the story to see when it was last updated.
MUNCIE, Ind. — Police say a convicted felon just released from prison ended up in the middle of a shootout in Muncie after getting his hands on a gun.
Police are now searching for Chandler Harris. He's accused of being involved in a shooting outside Uggly's Bar and Grille early Sunday morning. Harris was just released from federal prison last month on weapons charges.
Police believe he fired shots that injured a man and a woman, who remain in the hospital.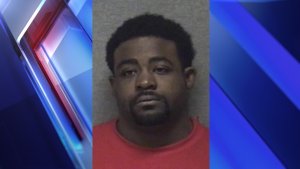 Since August 2016, officers have responded to more than 50 calls at the bar on South Walnut Street. Those calls have been for fights, shooting, and even reported sexual assault. Police consider the bar a problem.
"It doesn't get much worse than a shooting. The way they were firing off rounds, several other people could have been it. Cars going by could have been hit," said Muncie Police Detective Nick Ramsey.
Harris was convicted in 2012 and sent to prison on charges including lawful possession of a firearm by a serious violent felon, dealing marijuana, maintaining a common nuisance, and receiving stolen property. Because he's a convicted felon, it is illegal for him to possess a firearm. Police said it's not surprising he was able to get his hands on one.
"If you know where to go, it's easy to buy guns off the street. It's not like you have to go to a gun store and get a background check. There's always someone with a stolen fun somewhere that will sell it to you," Ramsey said.
Police are working the city to establish steps to consider the bar a nuisance property. There's also a possibility the bar's liquor license could be pulled.
Anyone with information about Harris is asked to call Muncie police at 765-747-4867.