This is an archived article and the information in the article may be outdated. Please look at the time stamp on the story to see when it was last updated.
MUNCIE, Ind. – A man accused of fatally stabbing a Muncie man told police he refers to himself as a martyr and "he wanted to purge the wicked," according to a probable cause affidavit.
Police were dispatched the scene in the 200 block of W. 7th St. at about 12:12 p.m. Thursday. There, officers says they found a neighbor applying pressure to a stab wound on the 27-year-old Steven Cook's neck. Cook was transported to IU Health Ball Memorial Hospital, where he was pronounced dead.
An affidavit shows the suspect, 19-year-old Jaylin Edword Ammon, was spotted by a woman on 7th Street. That's when Ammon reportedly told her "I took out a meth dealer! He was going to hurt my friends." Court records say the woman told Ammon that he should go to police and he agreed.
When police took Ammon into custody a short time later, police say they found a pocket knife covered in what appeared to be blood in his pocket. The Muncie Star Press reports that he also appeared to have blood on his face, chest, neck, hands and forearms.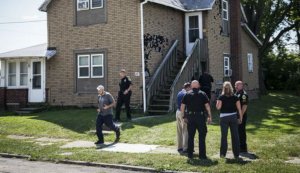 Ammon was transported to the Muncie Police Department, where officers spoke with him. During an interview, Ammon said Cook was dealing meth to his friends, an affidavit shows. Ammon reportedly said he was tired of Cook being at the apartment, so he asked him to leave. When Cook ignored him, Ammon told police that he retrieved a pocket knife and stabbed the victim in the neck.
Ammon told police that Cook tried to get away, but he held on to him until he was covered in so much blood that he was able to slip free. That's when Cook reportedly crawled out of a window.
When asked how he felt after reflecting on what he had just done, Ammon said "Well, this is my cross to bear," according to court documents.