This is an archived article and the information in the article may be outdated. Please look at the time stamp on the story to see when it was last updated.
MADISON COUNTY, Ind. (April 21, 2015) – Court documents reveal new details about a woman charged with murder, confinement and kidnapping in connection with the death of an Anderson mother and the abduction of her infant daughter.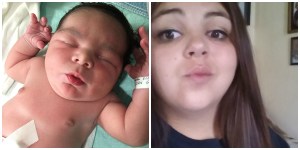 Investigators believe Geraldine Jones posed as a Department of Child Services employee to lure Samantha Fleming from her home in Anderson. The incident began on April 4 when Fleming's mother received a call from a blocked phone number from a woman who said she was with DCS. The woman used the same number to call Fleming.
On April 6, Jones, dressed in business attire, showed up at Fleming's Anderson home for a "surprise inspection." Jones also had a binder with paperwork in it, although a witness said she never opened it. Jones told Fleming she was there to take her to a court hearing.
Neighbor Harold Smith saw Jones. She asked him where Samantha Fleming lived. Smith said he didn't see a badge, but didn't have any reason to believe Jones was lying.
"That lady that I seen, didn't seem like the type. She just seemed like some regular person, but something have to be wrong with you for you to do somebody like that and steal their child," Smith said.
Jones told Flemington to take her 17-day old baby, Serenity, with her because "it would look better if you took the baby with you when we went to court," court documents said. Jones then took Fleming and the baby to Gary. A witness was able to get the license plate number of the car.
Police said they were able to confirm Jones never worked for DCS.
"(We) verified that this person has never been employed by the Department of Children (sic) Services," a detective told the judge.
Police began a missing persons investigation. They tried to track Fleming's cell phone and went through phone logs. They also found several text message exchanges between Fleming and her mother. Family members kept asking—via text since Fleming wouldn't call them—if she was OK and if the person on the other end was Fleming. They doubted it was because Fleming "doesn't spell well" and the text messages showed perfect spelling.
The investigation led Anderson police to Gary, where Gary police had found Fleming's wallet at an apartment complex. It was then that they learned Jones was the woman claiming to be a DCS worker by tracking the blocked phone number. They ran her name, which led to an address on Cleveland Street. When they arrived, they found Jones' sister holding a baby.
The woman seemed nervous, investigators said, and didn't know the name of the baby she held in her arms. She told police it wasn't hers; the baby belonged to her sister, who'd dropped her off and then went to Texas because she was depressed. When asked if the woman really thought the infant was her sister's, the woman told police she didn't believe so. The baby, later identified as Serenity, was unharmed.
Investigators also noticed a strange smell in the house. They found Fleming's body wrapped in plastic inside a storage tote in the closet. They used tattoos to confirm Fleming's identity. She had been stabbed 10 times.
Jones was staying at a hospital in Texas, where she tried to kill herself. Neighbors said she'd told them she was pregnant with twins, but were suspicious about that claim. The woman later told family members that she'd given birth to one child, but that the other one had died. It remains undetermined if she'd ever been pregnant.
Police are working to figure out how Jones knew Fleming. They say the suspect was able to get personal contact information from Fleming and her mother. They say the motive was likely that Jones wanted to raise Serenity as her own child.
Authorities are working to bring Jones from Texas to Indiana. They say she will likely be extradited by April 30th to face charges of murder, kidnapping, and criminal confinement.