This is an archived article and the information in the article may be outdated. Please look at the time stamp on the story to see when it was last updated.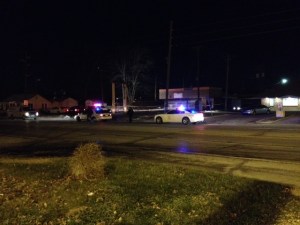 INDIANAPOLIS, Ind. (Dec. 7, 2014) — Metro Homicide Detectives are investigating after a 20-year-old man was shot and killed near an eastside night club.
IMPD received a call about shots fired near "Club Syllowett" around 2:30 Sunday morning. When officers got there, they found a man on the ground in a near-by parking lot, in the 6700 block of East 38th street.
The scene is in one of the six neighborhoods the city has been targeting to fight crime.
"Instead of talking things out, they're shooting things out, and that's the problem. We come out to talk with the crowd, and calm people down when an incident like this happens since families get emotional and we do what we can do for the families," said Indianapolis Ten Point Coalition Member James Black
Police have not released the victim's name to the public at this time.
Detectives are also questioning a man who came to Community East Hospital with a gunshot wound on his elbow during the investigation. He was later transported to Eskenazi for treatment.
Police also got reports about someone breaking-into cars at "Club Sylowett" around the time of the shooting.
This is the second shooting at or near a night club in the past few days. There was a shoot-out at "Pure Passion" on 38th and Lafayette Road Friday morning.
Witnesses told police a man was asked to leave, and then came back with a gun.
That fight was between Eric Middlebrook, 25, and the club manager, Tony Martin, 35.
Middlebrook was shot several times and taken to the hospital in critical condition. A bullet grazed the side of Martin's head.