This is an archived article and the information in the article may be outdated. Please look at the time stamp on the story to see when it was last updated.
INDIANAPOLIS, Ind. (March 24, 2015) - Four people were shot and killed in a near northwest side Indianapolis home Tuesday morning. Police were called to the scene in the 3100 block of N. Harding Street shortly after 9 a.m. when the homeowner came home and found four people dead inside. It is unknown how long the victims have been dead.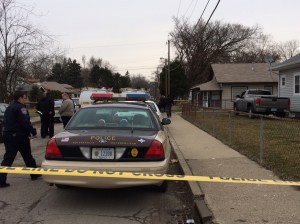 Police say there was forced entry into a side door of the home.The house was ransacked, everything was thrown around, and TVs were flipped. Three women and one man were shot and killed execution style; they all had multiple gunshot wounds.
IMPD Officer Chris Wilburn was asked why investigators believe the victims were killed execution style: "The violence. The fact that there are four people inside the home with multiple gunshot wounds."
Multiple forensic teams are investigating the scene. IMPD believes this is an isolated incident.
Wilburn told the media, "We won't abandon a geographic area, a zip code or people group. That's not what we signed up for, that's not what we will do. We will focus on rooting out crime and rooting out evil. We will continue to do that. We need assistance from the community. We have assistance from the community."
If you have any information regarding this incident, IMPD urges you to call 911 or Crimestoppers at 262-TIPS.