This is an archived article and the information in the article may be outdated. Please look at the time stamp on the story to see when it was last updated.
INDIANAPOLIS, Ind. – Two men were arrested after police found Xanax pills, marijuana and paraphernalia in a near southeast side home.
U.S. Marshals assisted Indiana State Police to serve the warrant at the residence in the 1800 block of Ashbury Street Wednesday.
The target of the warrant, 34-year-old Cory Critchfield, was quickly located and taken into custody for violating probation.
When serving the warrant, police found nearly 130 grams of marijuana, 195 Xanax pills and a substantial amount of drug paraphernalia in plain view.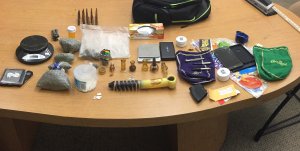 Investigators believe the drugs and paraphernalia belonged to 19-year-old Jacob Skaggs.
Both Critchfield and Skaggs were arrested and transported to the Marion County Adult Processing Center. The Marion County Prosecutor's Office will review the case and determine actual charges.
Illegal drug activity can be reported to the Indiana State Police by calling 1-800-453-4756, callers can remain anonyms.