This is an archived article and the information in the article may be outdated. Please look at the time stamp on the story to see when it was last updated.
INDIANAPOLIS, Ind.– An Indianapolis mother was sentenced Wednesday for her role in the death of her 2-year-old son.
Dominique Parks pleaded guilty to neglect of a dependent causing death. She was sentenced to 20 years. Fourteen years will be served in the Indiana Department of Correction and six years will be served in Marion County Community Corrections.
Her plea agreement states she will testify against Diquan Williams, who was Parks' boyfriend at the time and is facing charges of murder, neglect of a dependent resulting in death, battery resulting in death to a person less than 14 years of age and neglect of a dependent.
Cameron Parks, 2, died on October 17, 2015.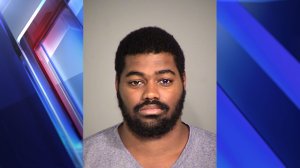 According to the probable cause affidavit filed in the case, Williams told investigators that "when his anger builds up he explodes" and can't control it. Williams told police he punched the boy several times and the boy fell, striking his head on the base of a wall. He was unconscious and wasn't checked on for some time until Parks came home.
Parks said she didn't call an ambulance because she knew medics would ask questions about bruises on his body.
In December, prosecutors requested a life without parole sentence for Williams.