This is an archived article and the information in the article may be outdated. Please look at the time stamp on the story to see when it was last updated.
The Lafayette Police Department seized and removed 49 marijuana plants from a home Wednesday afternoon.
Officers responded to the home in the 1400 block of Johnson Street around 3:30 p.m. after receiving a tip.
Following an initial investigation, a search warrant was secured for the home, police searched and a marijuana growing operation was discovered. The 49 marijuana plants were seized and removed. Authorities also found Xanax, a controlled substance and steroids in the home.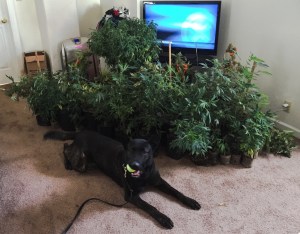 Danielle Richardson, 37, was arrested and is facing the following charges:
Two counts of possession of marijuana
Two counts of possession of a controlled substance
Dealing marijuana
Unlawful possession of a syringe
Maintaining a common nuisance
Police say the investigation is ongoing and more arrests could follow.  Anybody with information regarding this incident is encouraged to call the Lafayette Police Department (807-1200) or the We-Tip Hotline (800-78-CRIME).