This is an archived article and the information in the article may be outdated. Please look at the time stamp on the story to see when it was last updated.
BOONE COUNTY, Ind. – The hearing lasted about 15 minutes Friday as prosecutors formally filed their request for the death penalty against the man charged with killing Boone County Deputy Jacob Pickett in March.
Anthony Baumgardt remained silent while being walked into court under heavy security before the hearing. Prosecutors said their justification for seeking the death penalty was that Baumgardt is accused of killing an officer in the line of duty. There were also other factors under consideration, including Baumgardt's character.
Baumgardt's attorney said he expected his client to face the death penalty and acknowledged that some of Baumgardt's prior comments could harm him during the trial. Prior to his initial hearing last month, Baumgardt said he had "no remorse" for the shooting and also asked the court if he could "seek out the death penalty" on his own if he decided to plead guilty.
Prosecutors announced earlier this week that they planned to seek the death penalty against Baumgardt, who's charged with murder in Pickett's death. Boone County Prosecutor Todd Meyer said Pickett's family fully supported the decision to pursue the death sentence.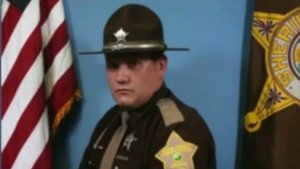 On March 2, police spotted Baumgardt in a car with two other men: John Baldwin Sr. and John Baldwin Jr. Baldwin Jr., the driver, was wanted on a warrant. So was Baumgardt. After a vehicle pursuit, police said Baumgardt and Baldwin Sr. got out of the car and tried to get away.
Pickett, who was assisting in the pursuit, chased after Baumgardt with his K9 partner, Brik. Baumgardt opened fire, fatally wounding the deputy. He told investigators he fired his gun because he "didn't want to get bit by a dog."
Baumgardt's trial is scheduled for July, but attorneys for the defense and prosecution agreed that it will likely be pushed back due to the death penalty nature of the case.