This is an archived article and the information in the article may be outdated. Please look at the time stamp on the story to see when it was last updated.
MUNCIE, Ind. – Police say an 18-year-old had 10 knives strapped to his body when he was taken into custody outside of a Muncie school on Wednesday.
Officers were called to Central High School at about 3:19 p.m. to investigate a report of a trespasser wandering the halls, according to a probable cause affidavit.
When police arrived, they say they located Thomas Lon Owens III outside of the building. As they approached the teen, officers say they noticed a knife sheath sticking out of his leather coat. Owens was then handcuffed and the 10 knives were discovered, as well as a set of lock picks, the affidavit says.
Owens told police he knew he had been told not to come to the school, but did anyway, according to the affidavit. Police say Owens isn't a student at Central and hasn't been a student at any Muncie Community School for a few years.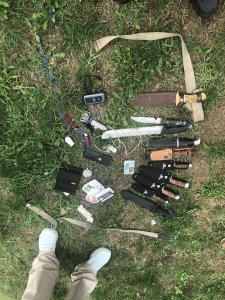 Owens claimed he had no intention of hurting anyone at the school. He explained to officers he had just started having a Facebook conversation with a student at Central. He said he was going there to hang out with that student.
The teen also said he always wears his leather jacket during summer months and always carries several knives. His mother backed up her son's comments when she spoke with officers.
When police looked at Owens' Facebook account, his story checked out and officers say they found no evidence of "radicalization or searches for mass shooting/stabbings."
Regardless, Owens was eventually arrested and charged with trespassing, a level A misdemeanor, and 10 counts of possession of a knife on school property, a level B misdemeanor.