This is an archived article and the information in the article may be outdated. Please look at the time stamp on the story to see when it was last updated.
HENRY COUNTY, Ind. – A traffic stop on I-70 in Henry County Wednesday resulted in the seizure of 58 pounds of marijuana.
Around 2:15 p.m. Wednesday, K-9 Sgt. James Goodwin with the Henry County Sheriff's Department stopped a vehicle on eastbound I-70. Goodwin detected the strong odor of marijuana in the vehicle and asked the driver, Andrew Larkin, 25, Veneta, Ore., to step out.
Goodwin, who is part of a multi-county task force called Pro-Active Criminal Enforcement (PACE), contacted K-9 Deputy Nick Ernstes of the Hancock County Sheriff's Department to assist with the investigation. The deputies found Larkin was in possession of a loaded handgun that he kept in his front pants pocket.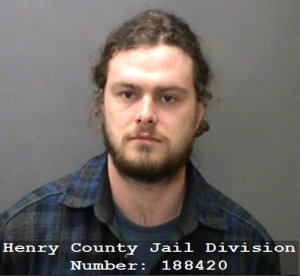 During a search of the vehicle, the deputies recovered more than 45 large, vacuum-sealed bags of what police described as "high-grade" marijuana. Some bags also contained THC wax. Another bag contained two ounces of hash paste, police said.
Police estimated the value of the seized marijuana at $200,000.
Larkin was taken to the Henry County Jail on a charge of dealing marijuana.