This is an archived article and the information in the article may be outdated. Please look at the time stamp on the story to see when it was last updated.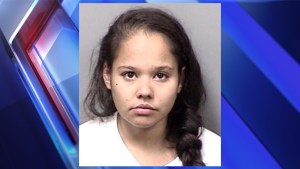 LECANTO, Fla. (Dec. 29, 2015) – She was allegedly high on meth as she rode a motorized shopping cart through a Florida Walmart, helping herself to sushi, cinnamon rolls, rotisserie chicken and wine.
Josseleen Elida Lopez, 20, faces shoplifting and drug paraphernalia charges, according to WFLA.
A Walmart employee contacted the Citrus County Sheriff's Office on Tuesday, Dec. 22, after noticing the woman's suspicious behavior. Investigators found a half-empty bottle of wine in her cart. She's accused of eating about $30 in food while inside the store.
During a search, deputies found two empty syringes in her purse and backpack, according to WFLA. Lopez said she'd used them to shoot up meth before the incident.
When deputies asked her why she took the food, she told them she was hungry and didn't want to eat outside the store. She told deputies "that she knew what she was doing was wrong, however did it anyway," according to court documents.