This is an archived article and the information in the article may be outdated. Please look at the time stamp on the story to see when it was last updated.
BOONE COUNTY, Ind. – The man accused of shooting and killing Deputy Jacob Pickett in 2018 will plead guilty in the case.
The Boone County Prosecutor's Office said Anthony Baumgardt has agreed to change his plea to guilty and will be sentenced on May 29 during a hearing.
"Since Baumgardt has not pled guilty and has not been sentenced, Prosecutor [Kent] Eastwood cannot make any further comment on this development," the office said in a statement.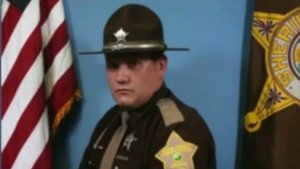 Baumgardt was set to go on trial next year after multiple delays. Charges against him include murder, possession of methamphetamine, resisting law enforcement and carrying a handgun without a license. Prosecutors were seeking the death penalty.
Baumgardt is accused of killing Pickett during a pursuit in March 2018. Pickett and his K9 partner, Brik, chased after Baumgardt; investigators said Baumgardt opened fire, fatally wounding the deputy.
He told investigators he fired his gun because he "didn't want to get bit by a dog." Police shot and wounded Baumgardt to bring an end to the chase.
Baumgardt previously said he had "no remorse" for the shooting and told the press "I'm not sorry." The trials of two other men involved in the incident are still pending.
Boone County Sheriff Mike Nielsen issued this statement:
I would ask that each of you remember Jake today and his ultimate sacrifice, and not focus on this murderer. Continue to pray for Jen, the boys, Jake's family, and the Public Safety Officers in Boone County. This news opens up deep emotional wounds that have been healing over the last 13 months and 24 days, since Jake was taken from us.

Over the last couple of months, we have had much communication about a plea agreement. I have spoken to family, I have talked with the Prosecutor and we have all met together to discuss options moving forward with the case. When it comes down to it, Jen and the family are what matters most. We will stand strong beside them on what they want. We will continue to walk this journey with them. As far as the details of the plea, I cannot discuss them until they are revealed at the hearing.