This is an archived article and the information in the article may be outdated. Please look at the time stamp on the story to see when it was last updated.
[protected-iframe id="8c8b56d7d9d104970ee69021b68405da-41641915-42210090″ info="https://www.verse.com/stories/4773-delphi-murder-investigation-one-year-later/?embedded" width="710″ height="400″ frameborder="1″ webkitallowfullscreen="" mozallowfullscreen="" allowfullscreen=""]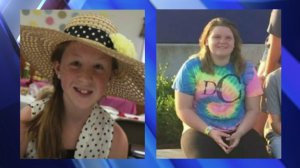 DELPHI, Ind.—The disappearance and murders of two young teens in Delphi continue to haunt the small, close-knit community one year later.
Posters bearing photos of Liberty German, 14, and Abigail Williams, 13, remain displayed on storefronts and businesses throughout Delphi–reminders of an unsolved double homicide and an unidentified killer still at large.
February 2017:
On Feb. 13, 2017, best friends Libby and Abby went for a walk along the Delphi Historic Trails on a Monday afternoon. Police say the girls were last seen at around 1 p.m. near the Monon High Bridge, an abandoned railroad bridge just east of Delphi.
Family called police at around 5:30 p.m. to report the girls missing when they failed to show up for pickup. While a small search party gathered that Monday night to search the woods, law enforcement didn't initially suspect foul play.
The search resumed the following morning with family, friends and law enforcement scouring the woods near the trails.
A volunteer searcher discovered two bodies at roughly 2 p.m. on Feb. 14 near Deer Creek– a location roughly a half-mile away from the bridge. Authorities would not immediately confirm if the two bodies were those of Libby and Abby and scheduled an autopsy for Feb. 15, 2017.
The community, however, drew their own conclusions. Delphi Community Middle School made counselors available to students, and Delphi United Methodist Church scheduled a vigil for that evening.
Autopsy results confirmed that the two bodies discovered near Deer Creek did, in fact, belong to Liberty German and Abigail Williams. Police announced the beginning of a double homicide investigation—the first in recent memory for the small city—but did not discuss the manner in which the girls died.
TIMELINE | Murders of Abby Williams and Libby German in Delphi
"There is someone out there that did this crime and we're going to track them down," said Carroll County Sheriff Tobe Leazenby at the time.
Later in the day, authorities released a grainy photograph of a man taken on the Delphi Historic Trails on February 13th around the time the girls were out walking. Investigators said they wanted to talk to the man about what he may have seen.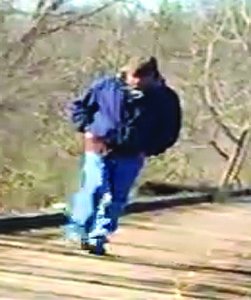 Thousands of tips poured into the tip line over the following weeks. Investigators began combing through evidence and investigating the property where Libby and Abby's bodies were discovered.
"We don't know how far this person or persons might have walked through that area. They may have dropped something in that area, so we combed the area," said Sgt. Kim Riley with the Indiana State Police, "so we looked for anything we could find."
Ron Logan owns the 40-acre property where the girls' bodies were found. He told FOX59 his land was filled with "hundreds" of police cars and vehicles, as well as generator trucks to keep the lights up as they searched for clues. Logan described the property as difficult to navigate.
On Feb. 16, Indiana State Police served a search warrant at a home on Bicycle Bridge Road in connection to the double homicide investigation. Evidence was taken from the home, but ultimately no arrests were made.
About a week into the investigation, officials release another clue about the suspect: an audio clip taken from a video on Liberty German's phone of a man saying "Down the hill."
March 2017:
The number of tips surged to over 10,000 and the reward for information grew to over $200,000.
As investigators continued to pursue leads and tips flowing in, officials in Delphi announced the creation of a task force to evaluate and explore safety options along the Delphi Historic Trails.
Liberty German's grandfather, Mike Patty, talked to the media for the first time since the teens' murders. He thanked the community for their outpouring of support and explained how he felt tips would solve the case.
By the end of the month, officials announced they would "scale back" as part of a normalization process of the investigation.
July 2017:
Throughout the spring and summer, investigators worked quietly behind the scenes pursuing information relevant to the case. Posters with the girls' faces remain plastered in store fronts as reminders of the gruesome crime.
On July 17, 2017, Indiana State Police came out with an announcement: they'd compiled a composite sketch of the suspected killer. A man with reddish brown hair, unknown eye color, between 5'6″ and 5'10" weighing roughly 180-220 pounds.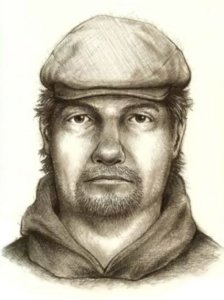 "We've got the information out there, the pictures out there, now we've got this composite that we feel it is the same person and we just want to make sure that people realize this picture is this person," said Sgt. Kim Riley with the Indiana State Police.
The number of tips surged after the sketch became public.
September 2017:
A tip from authorities in Colorado in September marked what many thought would be a big break in the double homicide investigation.
Police in El Paso County, Colorado, arrested Daniel Nations, 31, for allegedly threatening people on a trail with a hatchet.
The information made its way back to Indiana State Police who then flew investigators out west to interview Nations. However, they came back and said there was not enough information to either include or exclude Nations as a suspect in Libby and Abby's murders.
February 2018:
Police initially called Nations a person of interest, but at the start of the new year told FOX59 they were not actively pursuing him as a lead.
The case remains unsolved, but officials in charge of the investigation say it is anything but "cold." They're confident that someone out there has the information needed to connect the dots and solve the case.
The reward for information that leads to an arrest now sits at $240,000. Police have received more than 30,000 tips. Anyone with information is asked to call the tip line: 844-459-5786.