This is an archived article and the information in the article may be outdated. Please look at the time stamp on the story to see when it was last updated.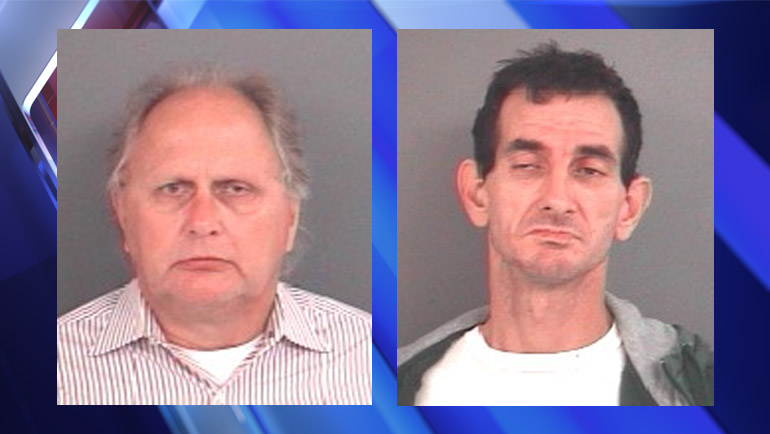 Update (March 14, 2016) — Randy Wigle-Stevens plead guilty to all three charges, and he was sentenced to 908 days probation.
BATESVILLE, Ind. (August 12, 2015) – New details were released describing the encounter between Batesville Mayor Richard C. Fledderman and Randy Wigle-Stevens that ultimately led to both of their arrests.
According to court documents, on July 19 Wigle-Stevens reported to state police at Methodist Hospital that he was sexually assaulted by Fledderman in June. He told police he had Fledderman's DNA to prove it, and police collected the DNA sample.
On July 20, a detective with Indiana State Police met Wigle-Stevens at the Columbus Police Department.
Wigle-Stevens told the detective that on June 7 he received four phone calls from Fledderman requesting a massage at his Batesville residence.
Wigle-Stevens responded to the request, and he went to Fledderman's residence.
Wigle-Stevens told detective he began to massage Flederman, and during the massage Fledderman attempted to kiss him. Wigle-Stevens declined the kiss, and according to the probable cause that made Fledderman angry.
At that time, Wigle-Stevens said Fledderman got off the couch and forced Wigle-Stevens to perform a sexual act on him.
When the sexual act was finished Wigle-Stevens used a paper towel to clean up, and he saved the paper towel with Fledderman's DNA.
Fledderman paid Wigle-Stevens $170 for the massage.
Several days later, Wigle-Stevens called Fledderman and told him he needed an additional $250.
Fledderman met Wigle-Stevens in the Greensburg Staples parking lot and gave him the money.
According to the probable cause, the Indiana State Police detective then spoke with Fledderman.
Fledderman told the detective he found Wigle-Stevens' website while looking for a massage therapist. Fledderman later admitted that he was also seeking someone to engage in sexual conduct with.
Fledderman said Wigle-Stevens gave him a massage and performed a sexual act on him, and then he performed a sexual act on Wigle-Stevens. Fledderman said both acts were consensual. Fledderman told police he paid Wigle-Stevens $170 for the massage.
Fledderman told the detective that several days later Wigle-Stevens contacted him, demanding an additional $500. Fledderman told police Wigle-Stevens threatened to "tell on him" if he didn't pay up.
Fledderman met Wigle-Stevens and gave him $270. In exchange, Wigle Stevens gave Fledderman a brown prescription bottle that contained a paper towel supposedly with his DNA on it. Fledderman said he discarded the bottle.
As part of the investigation, detectives discovered Wigle-Stevens  is HIV positive and he was diagnosed 20 years ago.
Wigle-Stevens never disclosed this information to Fledderman.
As a result of the investigation, both Fledderman and Wigle-Stevens face charges.
Fledderman faces one count of patronizing a prostitute, a class "A" Misdemeanor.
Wigle-Stevens faces one count each of:
Failure to disclose dangerous communicable disease status (level 6 Felony)
Prostitution (class "A" Misdemeanor)
Intimidation (class "A" Misdemeanor)