This is an archived article and the information in the article may be outdated. Please look at the time stamp on the story to see when it was last updated.
SEYMOUR, Ind. — A Seymour woman wants to know who would shoot her dog dozens of times with BBs and pellets, and she wants to know why.
Hayden Howard says her 100-pound English Mastiff pup, named Jackson, was in her fenced-in back yard when the attack happened sometime over the weekend. She says Jackson, who is less than a year old, seemed to be acting like nothing was wrong Saturday. But then Hayden noticed something strange on Jackson's body.
"He had some marks on him and we thought they were bug bites and stuff," Howard said. "Well then Saturday night, I saw started noticing holes on him."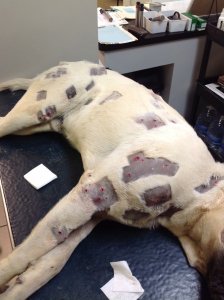 When Hayden took Jackson to the vet Monday, she was astonished to learn that Jackson's body was riddled with BBs and pellets.
"They were just kind of looking at all the little holes and stuff and the more they shaved him, they just kept finding more and more," she said. "I was in shock, I didn't even know what to think."
Howard says she eventually had to go out into the waiting room as the vet removed 20 BBs and 7 pellets from Jackson's skin.
"There was one under his eyelid, there was one in his ear, one in his knee, they were all over underneath of him," she said. "They came out there and he handed me this little cup and showed me all these little BBs and I just didn't know what to say or what to do," Howard said.
As if the shock of learning Jackson had been shot 27 times with BBs and pellets wasn't enough, Hayden says a Seymour police officer told her there were probably twice that many projectiles fired at her dog.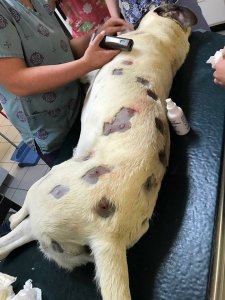 "Twenty some pulled out of him, twenty some that were probably still in him, and then twenty some that probably hit him and bounced off," she said. "So he said there were probably over sixty some that actually were shot at him."
Seymour police investigating at Howard's home say they found evidence to suggest which direction the BBs and pellets were fired from. Investigators found several BBs lodged in a tree on the property. They followed the angle and direction of fire in the direction of the house next door to Howard's, in the 400 block of Vehslage Road.
Police obtained a search warrant for the house next door Wednesday morning, where they found evidence that could be connected to the case. Police did not wish to reveal what that physical evidence was.
"Additionally, officers and detectives located methamphetamine, marijuana and drug paraphernalia," said Seymour Police Detective Sergeant C.J. Foster.
One man in the house next door was arrested on drug possession charges. When asked about who shot the dog next door, Foster says the man refused to answer without an attorney. No arrests have been made in connection to the animal cruelty case. But, Foster says, they're still following evidence in the investigation.
"We'll see if some of that evidence can possibly be sent to the Indiana State Police lab for examination, and potentially do some follow up interviews and go from that point," Foster said.
"I don't know what to think because my neighbors have been really good to him (Jackson). Their daughter walks him," Howard said. "I mean, they've been good to him so I don't know what to think about that."
While the case is being investigated, Howard is happy to report that Jackson seems to be recovering just fine.
"He's good," she said. "He's well, he's home taking medicine and everything."
At last check, a reward being offered for information in the case had grown to $500. Anyone with information that could help the investigation is asked to call Seymour Police at (812) 522-1234.