This is an archived article and the information in the article may be outdated. Please look at the time stamp on the story to see when it was last updated.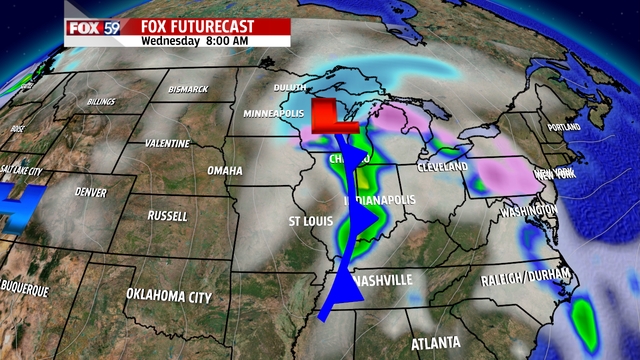 Grab the umbrellas before heading out today as Indianapolis will get off to a wet start with rain showers around.  At least we aren't talking about snow, right?
This morning a small area of low pressure will slide by to our north.  This system will cause enough lift and instability for mostly light rain showers to break out throughout the morning hours.  The national radar network showed mostly showers rolling through Illinois heading toward us this morning with a couple of imbedded short-lived storms popping up at times.  I would expect this to continue as this system passes through.  Also there is a rather large wrap around field of snow that extends all the way down to Russell, Kan.  Model data this morning has continually showed this snow sliding north of area, but with temperatures expected to rapidly fall this afternoon into the evening hours, flurries cannot be ruled out.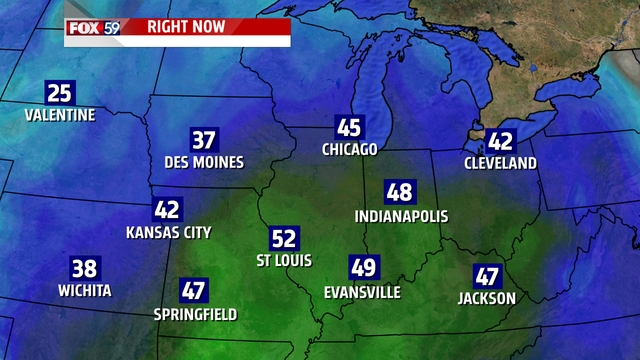 Warm then Cold
The area will see a quick blast of warm air as we start the day.  We are already in the 'warm' sector as temperatures are 15 – 25 degrees warmer this morning than at the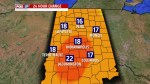 same time yesterday morning.  This means even with light rain around our temps will likely hit the mid to potentially upper 50s before the cold front passes shortly after noon.  Our temps at that point will tumble again as we will likely dip to below freezing for wake up temps on Thursday morning.  Snow flurries cannot be ruled out late this afternoon into the evening hours but any type of wintry precipitation we see will not impact roads.  Tomorrow is the first day of spring.  Temperatures will be slightly cooler tomorrow than today.
More Activity
Even though spring begins on Thursday, unseasonably cool weather will be sticking around through at least next week.  Friday will be warmer with the potential for some light snow turning to rain as we start the day.  Friday will likely be the warmest day of the next seven with highs likely topping 60 degrees.  The warmer air will be short lived as a front (looks dry for now) will cool us back down for Saturday.  Sunday will be even cooler than Saturday with highs struggling to hit the 40s!  This cold air mass will be in place through at least next Tuesday (the seventh day on the seven-day forecast).  Next week's cold snap will likely last through Wednesday if nothing changes with us potentially finishing out next week with a soggy but warmer pattern.