This is an archived article and the information in the article may be outdated. Please look at the time stamp on the story to see when it was last updated.
HUMIDITY JUMPS
Tropical air raced back into the state Friday with dew point temperatures rising back in the middle and upper 60's.  The tropical air provided the juice behind big rains in Northern Indiana.  Locally, 4.5″ to 5.5″ of rain fell near the National Weather Service in northern Indiana and just west of Fort Wayne.  Storms there will settle south overnight.
EARLY MORNING RAIN
The storms up north will settle south and lose steam when the arrive in Central Indiana.  We time the arrival of the rain in the city around 4 to 5 a.m.  A  downpour will be possible and then move south before sunrise.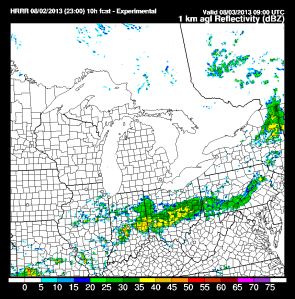 COLD FRONT SATURDAY
There will be improving weather Saturday with the passage of a cold front.  We expect winds to switch to the northwest around 2 p.m.  Cooler and drier air will filter in through the afternoon hours.  The change in air mass will lead to brightening skies and lowering humidity and a refreshing low by Sunday morning once again in the 50s.  The comfortable weather will lock in for Sunday and Monday with strong indications that a surge in humidity along with rain chances returning by mid-week.