This is an archived article and the information in the article may be outdated. Please look at the time stamp on the story to see when it was last updated.
SPEEDWAY, Ind. (May 14, 2014)— An IndyCar rookie crashed during practice for the Indianapolis 500 Wednesday.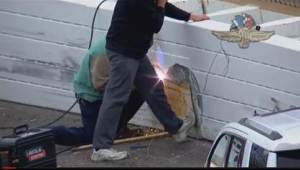 Driver Jack Hawksworth's car spun out before crashing into a wall in turn 3 around 6 p.m.
Hawksworth got out of the car and was checked out at the infield care center.
Rain delayed practice at the Indianapolis Motor Speedway until 7 p.m.
Jack Hawksworth has crashed during #Indy500 practice. He is OK as he gets out of the car unharmed.

— Larry Hawley (@HawleySports) May 14, 2014
Rookie Jack Hawksworth into the wall at @IMS He is out of the car and headed for infield care center. #Indy500

— Chris Hagan (@ChrisHaganIndy) May 14, 2014
https://twitter.com/rliggettFOX59/status/466701765778604032/photo/1