This is an archived article and the information in the article may be outdated. Please look at the time stamp on the story to see when it was last updated.
BROWNSBURG, Ind. (Feb. 12, 2014)– A driver from Iowa is facing multiple felonies in Indiana after a long chase with police.
Wednesday morning around 11 a.m., police officers pulled over Herman T. McHenry on I-74 in Brownsburg. They suspected illegal contraband was in the car and called in a K-9 unit to inspect the vehicle. The suspect was put into a police car while his car was being searched.
The police K-9 alerted officers to the trunk of the suspect's car. At that time, McHenry got out of the police vehicle and ran away. The officers struggled with the man, and tazed him. McHenry kept trying to get away, so officers tazed him a second time.
The man was able to get back in his vehicle and took off towards Pittsboro. He got to Lizton before hitting a Hendricks County school bus on State Rd. 39 that had at least the driver and one child inside. No injuries reported from this accident.
He proceeded to get on I-74 and drove to 32nd and High School Rd. before hitting a snow bank. At this time, he took a backpack from the trunk and fled again on foot. The officers caught up to him and were able to contain him.
Inside the man's bag, officers found a 9mm sub-machine gun, a pound of crystal meth, and two pounds of marijuana.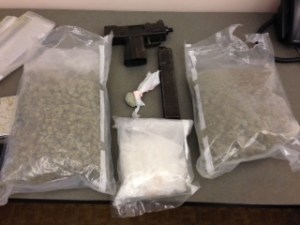 Herman T. McHenry, from Davenport, Iowa,  was arrested and is in the Hendricks County jail.
He is facing several felonies:
Dealing marijuana
Dealing methamphetamine
Possession of methamphetamine
Possession of marijuana
Illegal possession of a firearm
Hit and run
Battery on two police officers
Resisting arrest
Brownsburg Police Department, Pittsboro Police Department, Hendricks County Sheriff, and Speedway Police Department were all involved with this chase.