This is an archived article and the information in the article may be outdated. Please look at the time stamp on the story to see when it was last updated.
Rainfall is moving in this evening and thankfully it held off long enough to get in the Indy 500 this afternoon.  Light to moderate rain showers will continue this evening and then drop off again in the overnight hours.  After 2 AM, only isolated showers are expected here in Central Indiana. 
Memorial Day isn't shaping up too badly here in Central Indiana.  Once again, there will be the chance for rainfall but it's not expected to be an all day rainfall event or a washout.  It will be an isolated chance during the day and the better window if any will be in the afternoon.  Here's a look at the rainfall possibility in the morning hours.  The warm front should be in the northern part of the state at this point and that would keep the majority of our area dry.  Obviously, if you are in our northern locations, you could see some light rainfall.
As for Monday afternoon, the chance for showers and possibly an isolated storm is a bit better.  No severe weather is expected and this activity would be spotty. Fox Futurecast picks up this better chance, but don't read the image below as a widespread, soaking event.  Again, this should be spotty with hit or miss showers.  Just keep an eye on radar!  We'll be posting updates throughout the day through social media and you can always check the latest radar snapshot right here on our website.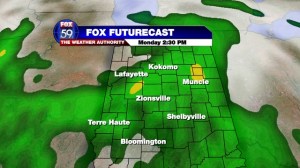 Temperatures will be much warmer on Monday because the warm front will have finally lifted to our north and this is just ushering in warmer air.  This finally allows our temperatures to return to normal for this time of year.  Skies will remain mostly cloudy to overcast again on Memorial Day Monday.
We'll remain in this wedge of warm air ahead of the next low pressure system for the rest of the workweek.  Temperatures will soar into the mid to upper 80s Tuesday through Friday.  Humidity levels will also rise during the week so be prepared for hot and humid days.  Heat index values will be in the low 90s along with ample sunshine as well.