This is an archived article and the information in the article may be outdated. Please look at the time stamp on the story to see when it was last updated.
We saw a beautiful day to end the work week here across Central Indiana.   Temperatures topped out at 79°F this afternoon, making another day we've failed to reach 80°F. 
So far this year we've seen 17 days with temperatures at 80°F or higher.  By this date last year, we had already experienced 32 days!  But there has also been a huge contrast in rainfall from this June to last June.  Last year, by June 14, Indianapolis had only recorded .05″ of rainfall.  This year, from June 1st to June 14th, we have received 1.48″ of rainfall.  What this shows us is that there has been more moisture in the air when you compare the two June's.  The moist air of June 2013 doesn't warm up as quickly or as easily as the dry air of June 2012.
Skies remain mostly clear overnight and temperatures drop to the upper 50s to the 60 degree mark.  Saturday will start dry with partly cloudy skies and pleasant temperatures.  We'll end up with temperatures near 80°F on Saturday afternoon but get ready for humidity to return.  Dew points will return back into the mid to low 60s, bringing back that sticky feeling!
Saturday Dew Point Forecast:
We will see an isolated chance for showers and thunderstorms starting Saturday afternoon as our first wave of moisture makes it into Central Indiana.  As the center of the low pressure system approaches Saturday night, the rainfall and storms chance will increase.  After the low pressure center passes to our east, it will leave behind a stalled out boundary that will become a stationary front. This will be the continued focus for shower and thunderstorm chances on Sunday.  We'll keep in a 60% chance of storms for Father's Day.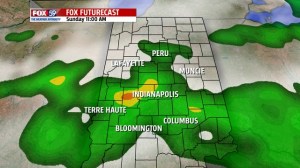 We could once again see soaking rains out of this weekend event.  Many of the models pick up at least 1″ of rainfall for Central Indiana will locally higher amounts near 2″.  I wouldn't be surprised to see the higher amounts since the boundary will be stalled out locally.