This is an archived article and the information in the article may be outdated. Please look at the time stamp on the story to see when it was last updated.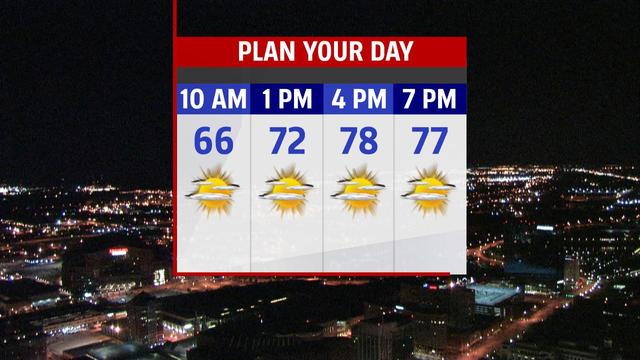 (June 6, 2014) – A homogeneous atmosphere sticks in place through the weekend with a chance for some rain on Sunday morning.  At this point it looks like both today and Saturday will be dry.  Rain may sneak in during the latter parts of Saturday, but at this point it looks like most rain will be confined to Sunday morning
For today and the weekend, look for highs to be near 80° each day.  Today will be mostly clear with a light breeze coming in out of the east at about 5 mph.  Saturday will see a few more clouds around with winds coming in out of the south.  The average high for today is 79 degrees.  The record high stands at 96 degrees.  Sunrise is at 6:18 a.m. and the sun will set at 9:10 p.m.
The next chance for rain as we said will be late Saturday/early Sunday morning.  At this point it looks like a mid-level vort max (spin) will arrive just ahead and along a cold front that will stay to our north.  This along with us being on the edge of high pressure may mean some rain and storms.  The timing of this rain is not what you would consider ideal for this type of system and I think you should expect to see less than a quarter of an inch of rain.  This is in line with what the GFS (0.14") is showing.  The Euro, however, is showing 0.63" of rain from this event.  I think that is probably on the high side.
Overall for the next seven days it looks like our severe weather chances will be low, but our rain and river flooding levels could be in the moderate range thanks to a forecast weak gulf low impacting the area next week.  This system could arrive on Tuesday and bring us rain chances through next weekend.  We will be keeping an eye on that system over the weekend and should have a much better read on what to expect on Monday morning.  At this point we could be looking at another inch to two inches of rain falling across the state over the course of three or four days.