This is an archived article and the information in the article may be outdated. Please look at the time stamp on the story to see when it was last updated.
SNOW CHANCE RETURNS?
A secondary fast-moving clipper system could bring a shot of light snow again to parts of central Indiana and even south central Thursday morning.  Caught in the fast flow of the jet stream the flows from the northwest, the system will increase clouds again later tonight and bring scattered light snow showers through the state toward sunrise.  Accumulation is not expected.  Here is a short-term forecast model image of the radar expected early Thursday.  We will monitor closely for the possibility of snow for the morning commute.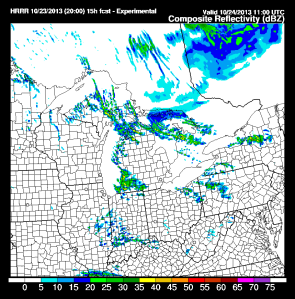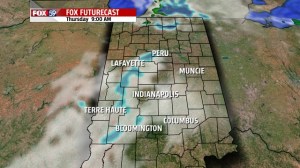 FIRST SNOW OF THE SEASON
Shortly after 3 AM Wednesday morning rain switched to big wet snowflakes in the city – marking the first snow of the season, only a trace reported.  The snow comes a week earlier than last year and well ahead of the average date of our first measurable snowfall November 19th.  The clipper system was expected to briefly switch to wet snow before ending around 4 AM and for 20 minutes the snow fell in the city and even brought a coating to parts of the north side.  .5" of snow was reported in Carmel while neighbors to the north in Delaware, Randolph and Henry Counties saw just under 1".  Officially 1" of snow fell in Muncie – and that is extremely rare.  A check of weather record shows Muncie has only had one other measurable October snowfall over the past 48 years (data base only goes back to 1965) the whopper in 1989 when 7.0" fell.
Below, a Halloween displayed covered in snow during the early morning hours in Parker City, Indiana in eastern Randolph county Wednesday.  Thanks to Amy Nuckols for this picture via twitter.
COLD SPELL
Wednesday the high temperature failed to reach 50° for the first time in 7 months, a high of 47° came just before clouds developed in the afternoon – that is the normal high around Thanksgiving and 16 degrees colder than normal!  8 straight days have been below normal and we are forecasting the stretch to continue into next week.
A LITTLE WARMER BUT WETTER
The cold eases Saturday then backs off later next week as a large, wet autumn storm begins to take shape.  This storm could bring significant rainfall and even strong thunderstorms (severe outbreak?) to parts of the Ohio Valley.  Central Indiana will be on the front side of the storm – the warmer side so temperatures are expected to inch back closer to normal (61°) but the warm up will bring rainfall.  Stay tuned as the system becomes better analyzed.