This is an archived article and the information in the article may be outdated. Please look at the time stamp on the story to see when it was last updated.
Clouds continue to decrease this evening and skies will be mostly clear overnight.  Temperatures will fall into the mid 30s across Central Indiana.  Sunny skies are expected on Saturday morning and through the afternoon hours.  But after 6 PM, expect more clouds to move in ahead of our rainfall chance.   Temperatures will still be warm thanks to the sunshine and a light south wind.  Highs should reach 59°F and if the clouds hold off even longer, we'll break 60°F!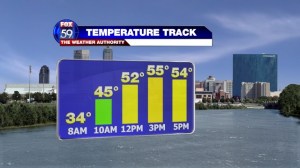 Rainfall moves in late Saturday evening.  Any shower activity before midnight will be spotty.  But after midnight, the chance for rain goes up and the window for rain continues through 10 AM for the metro.  Rainfall will only be left in our eastern counties after 10 AM and even that activity should move out of the state by noon on Easter Sunday.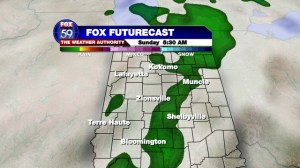 Temperatures continue to be pleasant and mild for the afternoon  hours of Sunday.  This will make for great conditions to get outside and enjoy the nice weather.  Highs are expected to reach the mid 50s under partly cloudy skies.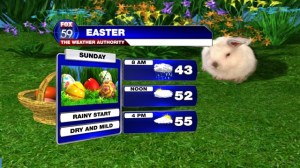 But even with the rain coming in, don't expect a soaking event.  A six-model average comes in at only .22″ of rainfall for Sunday morning.
Cold air will invade behind this system on Monday and this will cause temperatures will fall throughout the day.  We are also going to see some precipitation that day and with colder air in the area, snowfall is a real possibility on Monday morning.  There's enough moisture to create some light accumulating snow on grassy areas but roads should stay clear of snow because it will melt on contact.