This is an archived article and the information in the article may be outdated. Please look at the time stamp on the story to see when it was last updated.
INDIANAPOLIS, Ind.—An elderly woman was rescued after a fire broke out at a west side apartment complex Thursday afternoon.
Firefighters responded to the Port-O-Call Apartments, located at 5705 Port Irving Drive, around 2 p.m.  When they arrived, heavy fire could be seen coming from the building.
Officials said 18 units were affected and eight of those units sustained heavy damage.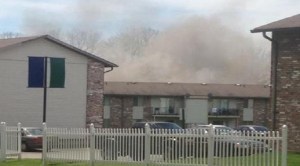 Two people were treated on the scene, but no one was transported to the hospital.  The rescued woman was not injured.
Damage to the complex is estimated at $200,000.
Employees with the American Red Cross of Greater Indianapolis responded to the scene to assist displaced residents. Fire officials are currently counting the number of displaced residents.
Related Stories: