This is an archived article and the information in the article may be outdated. Please look at the time stamp on the story to see when it was last updated.
WARMEST OF THE MONTH
Thanks to the lack of clouds, the ever strengthening February sun as pushed area temperatures well into the 50's Thursday afternoon.  Lower 60's are not that far away with downstate Evansville 63° at 3PM.  Temperature of 59° at  Bloomington, Spencer and Seymour with the city at 52° makes this the warmest this month.   This will be the first day of above normal temperatures for February – a month running nearly 8° below normal.
RAIN ARRIVES TONIGHT
The Spring Fling will be short-lived.  Rain is expected to arrive i the city after 8PM.  The showers are ahead of an approaching cold front arriving here just after midnight.  rainfall amounts will average around a quarter of an inch.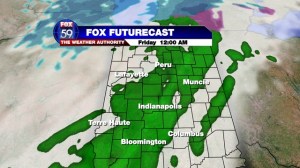 BRIEF SWITCH TO WET SNOW
Heavy, wet snow blankets the Chicago area thursday afternoon – snowfall rates of 1″ per hour were reported north of the city.  This storm system will drag colder air in later tonight bringing a possible brief switch to wet snow here before sunrise.  At this point it should be brief and after 4AM especially after 4AM.  As it stands now it should be out in time for the Friday morning commute.
WEEKEND OPENS QUIET ENDS WET
A sunny Saturday is coming with area temperatures around normal (near 40°).  The next system arrives with a push of milder air Sunday and increasing clouds.  Rain will move in again later in the day Sunday and temperature climb into the upper 40's.