This is an archived article and the information in the article may be outdated. Please look at the time stamp on the story to see when it was last updated.
By Marisela Burgos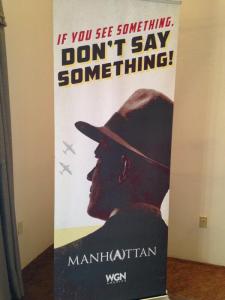 NEW MEXICO - Do you have a secret or are you keeping someone else's? These questions are the basis of a new thriller that will air on WGN America. The show is called "Manhattan". It is based on The Manhattan Project where scientists were handpicked to live at "The Hill" and many of them did not know they were building the first atomic bomb.
"Manhattan" is being filmed in Santa Fe, which is not far from where The Manhattan Project happened in Los Alamos, New Mexico. The show is set in the 1940s and it follows the lives and work of several fictional scientists and their families.
"The history is incredibly rich. It's a huge natural resource for us in terms of the storytelling and we feel a great responsibility to do it justice, which is a really tall order. At the same time, this show is about (the) characters (and) character drama," Sam Shaw said.
Shaw ("Masters of Sex") wrote and created the show. He said people will notice the pressures these characters will feel, living in this secret city.
"Part of the excitement -I think- of this first season of storytelling is seeing how these characters change the world around them and how they're changed by it (and) how it changes their relationships," Shaw said.
FOX 59's Marisela Burgos traveled to New Mexico to interview the cast and crew about the show. She said Hoosiers will enjoy the surprises. In fact, in the second episode there are two references to Indiana.
"Manhattan" is the second original scripted series to air on WGN America. The first show was "Salem".
The cast of "Manhattan" includes John Benjamin Hickey who was in "The Good Wife" and "The Big C". Hickey plays Frank Winter. His wife, Liza Winter, is played by Olivia Williams of "Rushmore" and "The Ghost Writer". Glen Babbit is played by Daniel Stern of "Home Alone" and "Home Alone 2". Ashley Zukerman ("Rush") stars as Charlie Isaacs. His wife, Abby Issaacs, is played by Rachel Brosnahan of "House of Cards". Katja Herbers ("De Storm") stars as Helen Prins and Alexia Fast ("Jack Reacher") as Callie Winter. Jim Meeks is portrayed by Christopher Denham of "Argo" and "Shutter Island". Harry Lloyd of "Games of Thrones" plays Paul Crosley. Michael Chernus of "The Big C" and "Orange Is The New Black" plays Louis "Fritz" Fedowitz and Eddie Shin ("Men of a Certain Age") plays Sid Liao.
Emmy Award-winning Director Thomas Schlamme ("The West Wing") directed the first two episodes. Shaw executive produced the show as well as Schlamme, David Ellison, Dana Goldberg, Marcy Ross and Dustin Thomason.
"Manhattan" premieres Sunday, July 27th at 9 p.m. ET on WGN America.
This slideshow requires JavaScript.