This is an archived article and the information in the article may be outdated. Please look at the time stamp on the story to see when it was last updated.
(Nov. 12, 2015) – Back together again?
Rumors are swirling that Guns N' Roses will reunite decades after last sharing the stage together, reports Zap2It. During the height of its popularity, the band was a cultural touchstone in the late 80s and early 90s. It appears the original members have put all that in-fighting behind them.
From Zap2It:
The evidence seems to have begun mounting two weeks ago, when a Portuguese news outlet said that the classic Guns N' Roses lineup had been contracted to play a two-hour show. Sometime after that, the band's official Twitter feed posted some mysterious messages that could be interpreted as reunion buzz. "Whatever happened to no news is good news?" the account wrote on Monday (Nov. 9), before adding: "Of course today everyone is a journalist … If only they could read lips … Surely they'll read between the lines." Even Duff McKagan's wife's friend is being quoted as saying that there is an imminent return to Paradise City.
Surely they'll read between the lines

— Guns N' Roses (@gunsnroses) November 9, 2015
Adding fuel to the fire, Scott Weiland, formerly of Stone Temple Pilots and Slash's band Velvet Revolver, told Alternative Nation, "I think that Guns N' Roses are getting back together."
Weiland said it was "probably way overdue" and would "dispel some of that negative stuff that was going on for so long."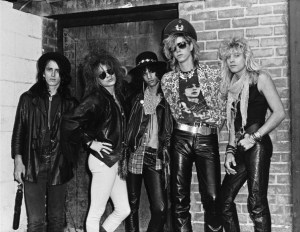 Dish Nation reported that the band is "days away" from revealing a worldwide tour, saying lead singer Axl Rose and guitarist Slash have buried their disagreements in the past. The other members—rhythm guitarist Izzy Stradlin, bassist Duff McKagen and drummer Steven Adler—are also said to be up for a reunion.
If the band reunites in 2016, it would coincide with GN'R's 30th anniversary.