This is an archived article and the information in the article may be outdated. Please look at the time stamp on the story to see when it was last updated.
NASHVILLE, Tenn. — Three years after a stroke almost silenced his golden voice for good, country star Randy Travis gave an inspiring performance during Sunday's Country Music Hall of Fame induction ceremony.
Travis, 57, suffered a stroke in 2013 after contracting a viral infection. He spent six months in the hospital as he fought for his life. After physical therapy, Travis couldn't speak or sing and had difficulty walking. But he rose to the occasion during the induction ceremony.
His wife, Mary Davis-Travis, said her husband "stared death in the face, but death blinked." She said he was proof of a miracle.
Garth Brooks inducted Travis into the Hall of Fame. As the ceremony reached its end, Travis performed "Amazing Grace" as the crowd joined in, many of them overcome with emotion. Travis received a standing ovation.
.@RandyTravis has just been inducted into the Country Music Hall of Fame. #HonorThyMusic pic.twitter.com/n1WU2OMkY0

— Country Music HOF (@countrymusichof) October 17, 2016
With a smile that could light up a room @randytravis has arrived #HonorThyMusic pic.twitter.com/yUrz5qLPVN

— Country Music HOF (@countrymusichof) October 16, 2016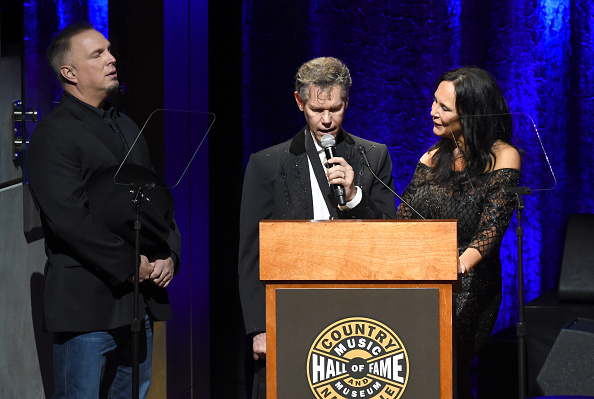 Several notable artists presented musical tributes to Travis and the other inductees.
Alan Jackson performed "On the Other Hand," which was Travis' first number-one hit. Brad Paisley sang "Forever and Ever Amen," which hit number one on the charts and won a Grammy for Best Country & Western Song and an Academy of Country Music Award for Song of the Year in 1987.
Travis was inducted along with Charlie Daniels and record producer Fred Foster. Brenda Lee inducted the fiddler. Trace Adkins performed Daniels' signature hit "The Devil Went Down to Georgia" with Andrea Zonn on the fiddle. Trisha Yearwood sang "It Hurts Me," a Daniels song that became a Top 40 hit for Elvis Presley in 1964.
Foster was inducted by Vince Gill. Dolly Parton thanked Foster, who signed her to her first recording contract and produced her first single to hit the charts, "Dumb Blonde." Brandy Clark performed "Blue Bayou" while Kris Kristofferson and Charlie McCoy sang "Me and Bobby McGee," hit songs Foster produced.