This is an archived article and the information in the article may be outdated. Please look at the time stamp on the story to see when it was last updated.
UPDATE: After speaking with Jitender Singh for this story on Friday he has paid his portion of the balance owed to the owner of The Silver Center.
INDIANAPOLIS, Ind.  – The owner of a local event space says after putting on a wedding three months ago the family disputed a payment and the money was taken from her account. Now, the card company says she's out of luck.
A dream wedding with all the sparkles, lights and fancy decor. It all turned into a nightmare for the owner of the Silver Center long after the big day.
"I don't know what happened. I got an email saying they were disputing the charges 3 months later," owner Chesia Torrence said.
Chesia received an email this week from Square Up, the company she uses for card transactions.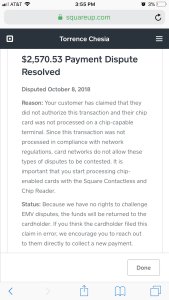 She says she has proof of permission for the charge after the bride tried paying with multiple cards in order to make her total.
"They kept declining which is why I have so many. They kept giving me new cards. They were mostly all the same name so I guess everybody was just trying their cards to get it paid for," Chesia said.
So ,we got the family on the phone. The bride's brother-in-law who was listed on the contract- Jitender Singh.
"Because when we called the bank right they said everything is cleared through nothing is disputed," Singh said.
Since, Singh denied disputing the charge. We got a spokesperson from Square on the line.
"I would need to forward this to the support team to look into it. I don't want to speculate on what happened," the spokesman said.
We sent Square Chesia's information and they're looking into it.  But, there was another problem. The family never paid charges racked up for extras they requested on the day of the wedding.
Chesia says she tried calling the family after the July wedding for the $4,000  and never got an answer. Then the $2,500 was taken out of her account. Meaning she was now out of $7,000.
"I don't want what's yours. I want what's mine," Chesia said.
After talking to Singh for more than 30 minutes he says after taking a closer look at his records he admits Chesia was right.
"So we do owe her the money that you're saying," Singh said.
"So did someone stop the payment on the card though?" FOX59 reporter Tanae Howard asked.
"No, the cards don't work. We turned off the card," Singh said.
Chesia says now she hopes he follows through and makes the payment.