This is an archived article and the information in the article may be outdated. Please look at the time stamp on the story to see when it was last updated.
LEBANON, Ind. (Oct. 24, 2013)— A former Indiana State Trooper has been found not guilty Thursday in the murders of his wife and two children.
A jury acquitted David Camm of the murder charge in the death of his family, who were gunned down in their Floyd County home in 2000.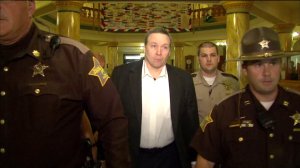 As the verdict was read, Camm broke down. He was visibly sobbing, shaking and mouthing to jurors as they left the courtroom, "Thank you."
Moments after a judge released the emotional courtroom, Camm was led without handcuffs through the courthouse and into a waiting car. Camm did not reply to questions and remained stoic.
"This is complete vindication after 13 horrific years," Camm's defense attorney Richard Kammen said.
Camm resigned from ISP and was off the payroll as of May 8, 2000. The murders occurred more than four months later.
He's been tried twice before and convicted, but both times, the conviction was overturned. A second man, Charles Boney, has been convicted and sentenced to life in prison for the murders. However, Camm has maintained his innocence throughout.
"Inside he's the same guy, but he's been damaged, he's been damaged by the state of Indiana," Camm's uncle Sam Lockhart said.
But in this third trial, the jury's instructions were different. If they believed Camm "aided, induced, or caused" Boney to commit the murders, they were allowed to still convict Camm of murder — a broadening of the charges that Camm's family struggled with.
Those instructions did not appear to matter, as the jury took just 10 hours to reach a unanimous not guilty verdict.
"I would imagine Boney's credibility would probably be a big factor," Prosecutor Sam Levco said after the acquittal.
A judge allowed Camm to meet with several family members before being led out of the courtroom to a processing center. Asked what he would do next and if he would return to southern Indiana, family and Camm's attorneys would not say.
"First he has to mourn his family. He was never given the opportunity to mourn his family. It's been survival," Defense Attorney Stacy Uliana said.