This is an archived article and the information in the article may be outdated. Please look at the time stamp on the story to see when it was last updated.
INDIANAPOLIS, Ind. (May 15, 2014)– An explosion on the city's near northwest side sent several people to the hospital Thursday night.
Officers responded to Pangea Riverside Apartments in the 2600 block Cold Spring Manor Dr. around 10:05 p.m. Indianapolis Mass Casualty Task Force, IMPD, Department of Code Enforcement, Citizens Gas, IEMS abd 15 IFD units were called to the scene.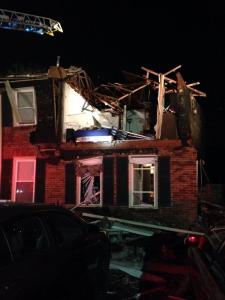 According to IFD, two occupants, ages 19 and 20, told firefighters they were upstairs in the townhome when the explosion occurred.  They said they had no idea what caused the explosion and it was not clear what they were doing at the time.  Both were transported to Eskenazi Health with slight burns.
Their two friends, ages 20 and 22, were downstairs in the townhome and did not suffer any injuries, but they were taken to Methodist Hospital to get checked out. All four occupants, who are students, told firefighters they smelled either "dirty water" or "sewer gas" in the apartment but couldn't locate a possible source.
Additionally, a mother and her 17-year-old daughter, who live in an adjacent townhome, were transported to Methodist Hospital, but they did not have any injuries. Their residence sustained damage as did the roof of the adjacent building.
Another neighbor, Sharmaine Barbee, said she and her family were not hurt.
"I was on my way to sleep and all I heard is a boom," Barbee said.  "It sounded like a plane just went through the house, but it wasn't.  Then we went to the back patio and all we saw was little house pieces coming down and everything."
Barbee's sister, Shania, feared the worst.
"At first I thought it was a terrorist attack again," Shania Barbee said.  "I had kinda slipped and fell trying to run from the opposite way and I ran upstairs to see if everybody else was okay."
"When it went off, it felt like an earthquake," their roommate, Christal Johnson told FOX59 News.  "Pieces had landed on top of our roof and it just shook and everybody just started running downstairs."
Citizen's Energy testing did not find any readings of gas outside the structure.
The scene was turned over to IFD/IMPD investigators who will continue to work with the apartment owners and the utility companies to locate a possible origin and cause.
At this time, 23 occupants are displaced and damage is estimated at $250,000.
Massive police and fire presence at the spot of an apparent apartment explosion. Stay with @FOX59 for details. pic.twitter.com/v6Qx33JB7C

— Eric Levy (@EricLevyTV) May 16, 2014