This is an archived article and the information in the article may be outdated. Please look at the time stamp on the story to see when it was last updated.
OCTOBER IN JUNE
This is refreshing air but it certainly feels more like fall. The afternoon high only reached 70-degrees today - the normal for early October and 10-degrees below normal.
Today marks the date when the average high temperature reaches 80-degrees. We remain at or above 80° for a high 'normal' high through September 11th.
The mild air is hanging around for at least one more day. The northeast breeze will continue overnight and skies will become clearer.
Overnight temperatures will fall into the lower 50s by daybreak. Some outlying areas could even fall into the 40s before sunrise!
HEAT IS COMING
We have a huge change in the upper-air pattern.  A dome of heat, or 'HOT DOME'  - a high pressure in the upper-levels where air is sinking and heating up.  It develops over the eastern U.S. starting this weekend.  Parts of the nation that are currently 10 to 12 degrees below normal will move near or above 90-degrees starting Sunday.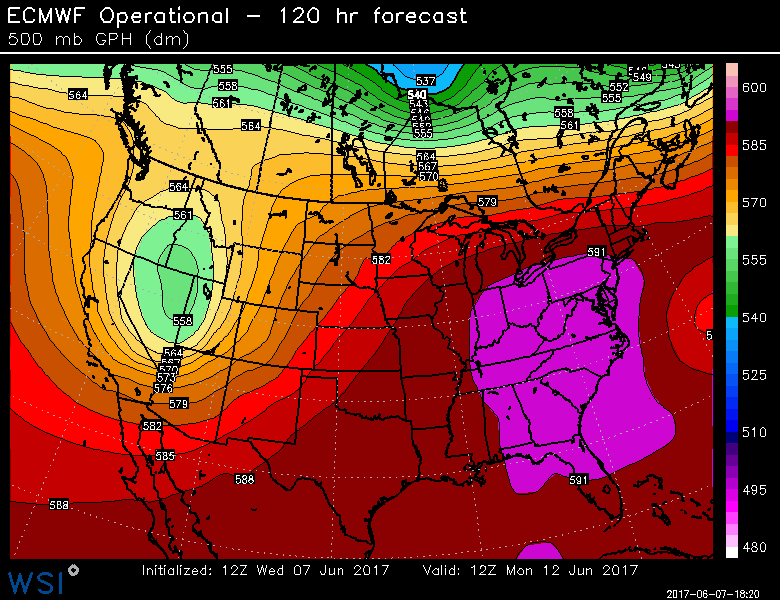 NO RAIN FOR NOW
We really shut off the rain as soon as May ended. In fact, since May 29th only .02" of rain has fallen officially for Indianapolis.  The last real rain came race day evening when thunderstorms developed after the Indianapolis 500 ended.
The 10 day span is the driest for the dates since 1994 and ranks 6th driest all-time. Normally the we would have just over a inch and a half of rainfall in that span.
The treat fro rain is minimal as the upper-level hot dome establishes itself though early next week.  A small rain threat comes later Friday but coverage looks very minimal along an approaching warm front.  Besides Friday we look to next Wednesday for shower and thunderstorm chances to return.