This is an archived article and the information in the article may be outdated. Please look at the time stamp on the story to see when it was last updated.
INDIANAPOLIS, Ind. (March 25, 2015) –Police are still searching for the person who shot and killed four people inside a near northwest home. On Tuesday around 9 a.m., IMPD says the homeowner of a home in the 3100 block of Harding Street came home to find four people dead.  Investigators say multiple shots were fired inside the home. Officials have describe the killings as execution style.
"I mean for somebody to do something like that it's just as brutal as it gets, it's just horrible," says Gene Taylor, a victim's family member.
Three of the four victims are related, one was a family friend.
Police have identified the victims as Davon Whitlock, 18, Terri Betties, 41, Tiara Turner, 32, and Sherry Taylor, 48.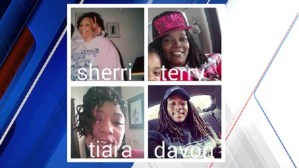 Whitlock was Betties' son. Turner and Betties were cousins. Taylor was a family friend.
The suspect or suspects broke in through a side door and ransacked the home.  Investigators do not believe this was random.
"I don't know why anybody would want to hurt her, any of them, any of them," says Jojuana Taylor, a victim's family member.
A memorial is growing on the front step of the home where the murders happened. Candles, flowers and more have been left in the memory of the victims.
"We lost aunties and kids are without their parents and loved ones, restless nights. It's crazy because they are still out here," says Taylor, a victim's family member.
The Indianapolis Ten Point Coalition was patrolling the neighborhood Wednesday night.
Another organization is planning a prayer vigil for Thursday evening.