This is an archived article and the information in the article may be outdated. Please look at the time stamp on the story to see when it was last updated.
INDIANAPOLIS, Ind. – A mother, father and 4 children died after their home caught fire Saturday morning.
The family of six had to be rescued from the burning home located  in the 2100 block on N. Olney. All six were transported to area hospitals where the mom, dad and two of the kids were pronounced dead on Saturday. The two other children died Sunday afternoon at Riley Hospital.  Family members are mourning the loss of 47-year-old Lionel "Leo" Guerra, his wife 33-year-old Brandy Mae, and their children 14-year-old Miranda, 11-year-old Esteban, 8-year-old Blanquita and 6 year-old Fuentes.
A memorial is growing outside the family's home. Loved ones and strangers have stopped by to drop off candles, flowers and stuffed animals. A relative told FOX59 she wanted to thank the community for all the support. The extended family is also asking for people to lift them up in prayer.
"We're believers in Christ, and we're believing that they're in god's hands right now, so we're trusting in that totally," said Gilbert Guerra, Leo's brother.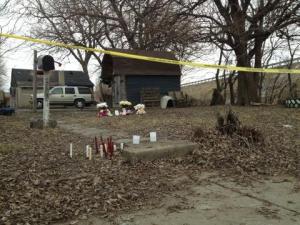 Investigators are working to determine what caused the fire. Officials have ruled out foul play. It is still unclear how long the fire was burning before a passerby called to report it.
Captain Rita Reith, with the Indianapolis Fire Department, calls this one of the worst single family tragedies that anyone can remember. She says firefighters and EMS responders are continuing their work with heavy hearts.
Funeral arrangements are not available yet. Stay with FOX59 as we continue to follow this story.