This is an archived article and the information in the article may be outdated. Please look at the time stamp on the story to see when it was last updated.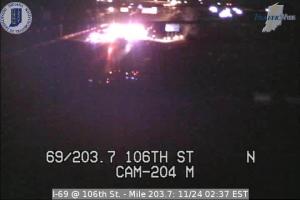 FISHERS, Ind. (November 24, 2013) — A fatal crash shut down part of Interstate-69 northbound early Sunday morning. Witnesses who saw the crash say the driver ran off the road, flipped and smashed into a tree. It happened on I-69 near the 11th Street exit. It happened shortly after 2 a.m.
One other person was injured.
Firefighters had to cut the top of the car to pull the passenger out, who was rushed to Methodist Hopsital. They were not immediately able to remove the deceased driver.
The northbound lanes of I-69 were expected to be closed until 5 a.m.
Investigators were still looking into contributing factors, but say there were reports of slick roads at the time of the crash.