This is an archived article and the information in the article may be outdated. Please look at the time stamp on the story to see when it was last updated.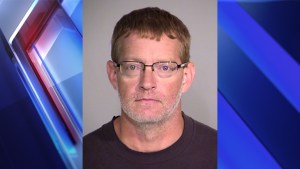 INDIANAPOLIS, Ind. (Aug. 27, 2015)-- The father of missing baby Janna Rivera was arrested Thursday in Marion County and preliminarily charged with murder and neglect of a dependent resulting in death.
In July, Jeffrey Fairbanks told FOX59 he put Janna, who was 3 months old at the time, in a dumpster. Her body has never been located.
Investigators with the Indianapolis Metropolitan Police Department (IMPD) told FOX59 previously that Fairbanks is the only person of interest in this case. Fairbanks told investigators Janna died in her sleep.
IMPD says the mother called 911 the following morning to report her daughter missing. Deputies with the Marion County Sheriff's Office served a protection order against the Fairbanks a few days later.
Officers searched the dumpster, the landfill connected to that route and several nearby retention ponds day after day hoping to find baby Janna.
The Marion County Prosecutor's office is expected to release more information about the arrest Friday.
Here is a clip of FOX59's interview with Fairbanks from July: