This is an archived article and the information in the article may be outdated. Please look at the time stamp on the story to see when it was last updated.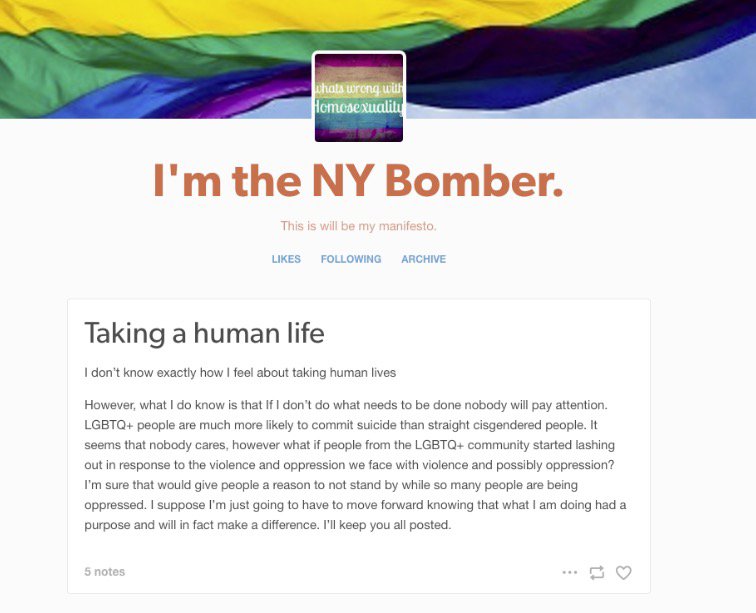 NEW YORK — A federal law enforcement official says the FBI is evaluating a claim of responsibility for the New York City bombing that injured 29 people.
The claim was made on the social blogging service Tumblr. Officials tell The Associated Press that the FBI is working to determine the authenticity of the post.
The post, titled "I'm the NY Bomber: This is will be my manifesto," was pulled offline within 45 minutes of WGN-TV's New York sister station WPIX publishing this story.
Below is the text of the Tumblr post:
Taking a human life

I don't know exactly how I feel about taking human lives

However, what I do know is that If I don't do what needs to be done nobody will pay attention. LGBTQ+ people are much more likely to commit suicide than straight cisgendered people. It seems that nobody cares, however what if people from the LGBTQ+ community started lashing out in response to the violence and oppression we face with violence and possibly oppression? I'm sure that would give people a reason to not stand by while so many people are being oppressed. I suppose I'm just going to have to move forward knowing that what I am doing had a purpose and will in fact make a difference. I'll keep you all posted.

---

Manufacturing Test Explosives

Hi.

You probably have all seen the news by now,

the explosives detonated in New York City, that was me. Those were just some tests, I know where I have made errors and I will not make the same mistake next time.

I did it because I cannot stand society.

I cannot live in a world where homosexuals like myself as well as the rest of the LGBTQ+ community are looked down upon by society.

It is 2016 and we are still being viewed as mentally ill, sinners, attention seekers, and just plain weirdos in general. I am not going to stand by while under classed and underprivileged people are oppressed. I am not going to stand by while there is inequality in my country such as the racism being seen in white police officers all over the country. I am not going to live in a country where it is OK to have a misogynist, xenophobic, racist Islamophobic, republican candidate running for President of The United States! That's implying that republicans in general should even be taken seriously as they are all cisgendered privileged white people.

This is not the end, this is just the beginning. I will be remembered. I will make a difference. I will eliminate my targets before it is too late.
Meanwhile, federal investigators are examining evidence from Saturday night's explosion as well as a pipe bomb explosion earlier yesterday in New Jersey.